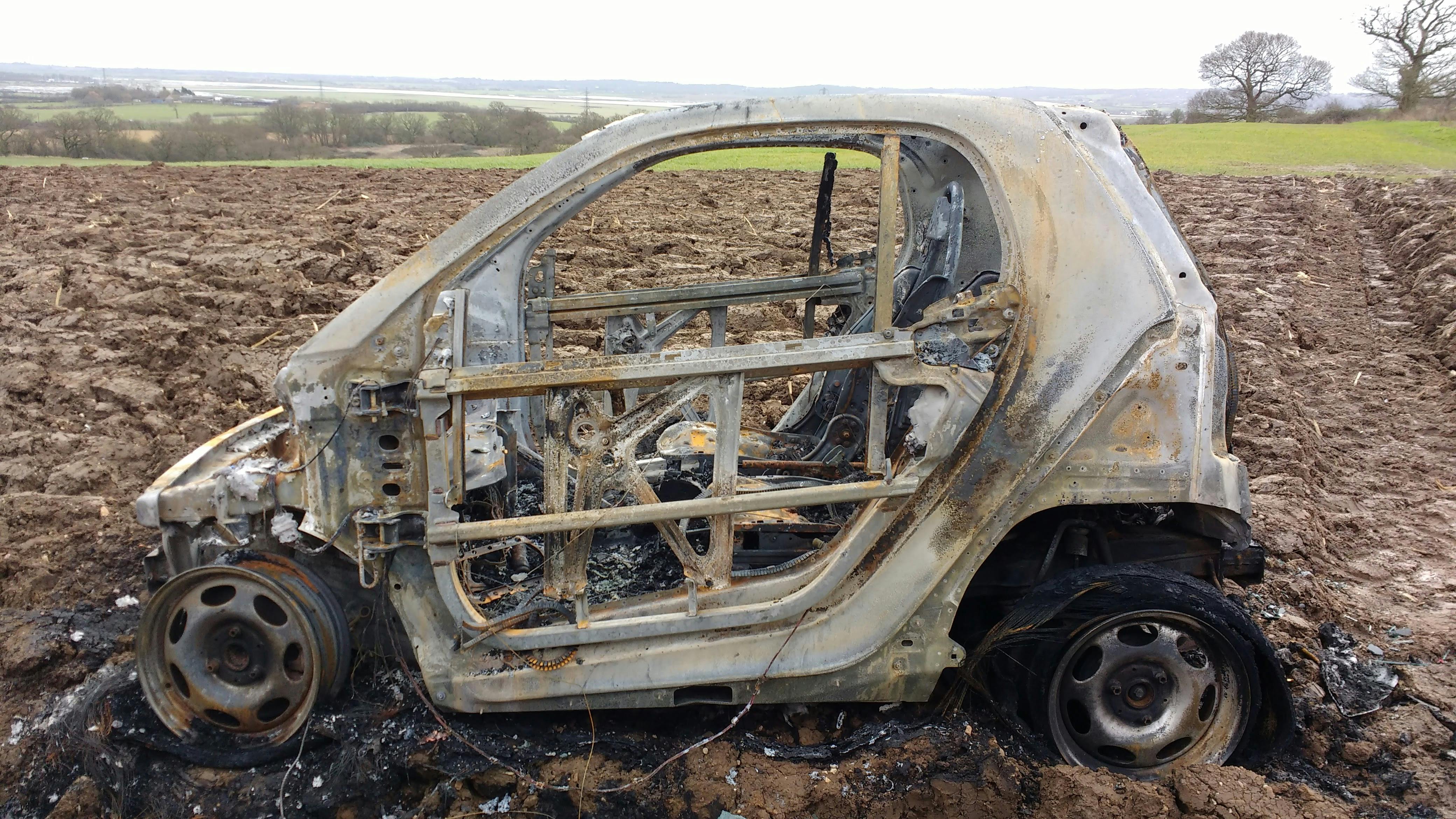 At the edge of a ploughed field sits a burned-out Smart car. Its squat dimensions make it appear as if compacted in a Thames Estuary wrecker's yard, prior to being set alight. The carcinogenic hulk against a pastoral backdrop is a particularly Essexian sight, as is the detritus scattered around it: a chalky, transparent baggie and a discarded Durex packet — Es and sex.
We're on Radar Hill, overlooking the sprawling town of South Woodham Ferrers, where my wife Hayley grew up. We met in a bar in Southend-on-Sea almost half our lives ago. She downed an orange Reef to impress me. Now, it's February 2016; we've known that Hayley is pregnant for around a week – Greta will arrive in November — and we're about to set off on a walk to Maldon (where the salt comes from), at the north-westernmost edge of Essex's Dengie peninsula.
We've been taking similar walks with friends for a few years now. From Southminster to Bradwell, on a pilgrimage to St Peter's, the county's oldest church, on the day after the Paris attacks, in rain so relentless our trousers began to lactate soap. (Having arrived, we couldn't go in, the entrance being blocked by a Portaloo.) From West Ham to Leigh-on-Sea in two parts: the first to Tilbury, taking in London's eastern edges and Rainham Marshes, the air thick with chemicals; the second, on a freezing February day, Hayley succumbing to the gaps in the frozen marsh at Mucking, legs hitting icy toxic water on the largest landfill site in western Europe.
I grew up in Leigh-on-Sea, part of the Essex borough of Southend, and these forays into the creek-filled wildernesses and wreckers' yards of my childhood, initially stemmed from a growing disillusionment with London. Battered by soul-destroying freelance gigs and a life dictated by transport options, I craved the Essex hinterlands, the marshes, the creeks, the sun reflecting off the mud. Thinking back, perhaps I was trying to escape a city that had started taking more than it was giving.
The metropolis can be defined in opposition to what lies beyond: the rural, the suburban; the "sticks". I wanted to dissolve the boundary between my adopted, urban home and that of my youth. Roam the lands that separate Essex commuters — many second-, third-generation cockneys — from their ancestral city. Walking with us to Maldon were mates we would never have found without London, all of us having moved there from more provincial settings in a bid to connect to the wider world. But the need to escape the anonymous city, that teeming void, persists.
On every walk, there comes a moment when things click into reverie. People pair off, chats bubble up, sometimes boil, before partners are swapped. Eventually, conversations bleed into one another, swelling into a gleeful whole. At one such point, while crossing a field making for sparse woodland, our phones vibrated. "EU referendum to take place on 23 June, David Cameron confirms." News notification buzzkill.
Walking with partially German Hayley and my partially Irish self were: Sarah, the daughter of an Iranian immigrant father and English mother; Noemi, who emigrated from Germany 20 years ago; Johanna is part Irish, too. And Luke, who stems from Epping in Essex, but feels European. All of us accustomed to moving freely around our continent. All with family or friends in EU countries. Now, some of us grinned, unsure: we wouldn't leave, would we? No, surely not – but we might. A thin veil of dread descended. For reasons none of us could pinpoint, the flat fields and moody woodlands felt grim. We were spooked, alert to the isolation of nature. As we entered a copse, the sound of distant chainsaws was punctuated by sporadic gunfire.
The afternoon grew sodden and sagged into gloomy night long before we arrived in Maldon. We dried our limbs and wet our whistles in the Blue Boar. A few pints in, a football was lobbed into the bar. A dog leapt up and headed it back to the thrower, a scruffy, middle-aged geezer. This show lasted for a good ten minutes, the whole bar rapt, until the ball bounced violently off the side of a table, skimming a patron's Guinness. She wasn't best pleased. A perfectly English moment: goonish, yet discomfiting. A surreal intervention that at once united and divided us.
*******
In South Woodham, some months later, Hayley's uncle Ken turns to me and announces that the country is sliding into fascism. We are watching his Hammers go 2-1 up on my Spurs (we win 3-2). When West Ham plays, the Railway pub fills up with lager-powered claret and blue fanciers. In June, Essex voted as overwhelmingly to leave the European Union as Scotland voted against it: 62% of residents voted Leave, with Brexit particularly popular in Southend's neighbouring borough, Castle Point (72.7%), as well as Thurrock (72.3%).
Ken and the Singer family, whose matriarch (Hayley's nan) moved from Germany the year after the war to marry their patriarch in Canning Town, have always been on the red side of the working classes. All three brothers and one sister voted Remain. But Ken isn't usually one to make such pronouncements as the UK is about to go Full Nazi. Locally, he's a popular figure, despite his politics being anathema to most. I'm his confidant. He lowers his voice and describes how some round here tell him to "give Trump a chance", as if the man hadn't promised to ban Muslims from the US, speaking as if surrounded by ever-encroaching tyranny.
All over the country, allegiances are being tested like never before in my lifetime. Since Brexit, conversations in Essex have grown edgier, more pointed, conspiratorial. The Leave vote offered an opportunity to espouse hitherto unspoken desires. In Castle Point, immigration was said to be a key issue by some who voted, despite immigrants accounting for just 3% of the population. Years ago, when I was at sixth-form college there, one or two fellow students saw race as a contentious issue, passed down through their families, even though it seemed misplaced in that bleached ethnic landscape. I remember asking a classmate what he might do next and hearing of his despair about entering the workplace. "It's coz of all the Pakis and coons," he said. "They've taken all the jobs."
********
Moving to Essex was once an idealist pursuit of the cockney or the migrant from further afield who could easily assimilate. When Hayley's grandparents moved to Basildon from Stratford way, he was a welder, and was promised a brand new home with central heating, a bath. Basildon has since decayed into a post-Thatcher, post-Depeche Mode hodgepodge of desolate parks and neglected public space, creating a zone of poverty to be fetishised. It's also one of the country's political bellwethers and has voted Conservative in the last two general elections. I am reminded of a passage by the filmmaker and essayist, Patrick Keiller from Port Statistics, an essay accompanying his fictional documentary, 'Robinson in Space':
"[R]epression and S&M haunt the Conservatives in a way that cannot be put down simply to the influence of public schools. Like repression, deregulation inflicts pain and suffering... In May 1996 Maurice Saatchi launched another pre-election campaign with the slogan: "Yes it hurt. Yes it worked."
*******
My maternal grandmother's family settled in Castle Point when my great-grandfather bought a plot. "All the guys round there worked on each other's houses," says my dad. "One was bricklayer, my granddad was a carpenter, someone else was a roofer." Castle Point today has one of the highest levels of home ownership in the country. I visit Beryl, 79, a rare Remainer who lives round the corner from where my great-grandparents used to live, in a house she moved into in 1962 with her husband David, who died in 2015. "This is what I can't understand, because I taught at [local school] Deanes for nearly 30 years and the whole time there I could have counted the immigrants on one hand," says Beryl. "I don't understand why they should vote in so many numbers to leave." One reason she posits is the changing face of London's East End. "Is it seeing what's happened to those areas where they've come from? My brother-in-law came from Ilford and he said it's totally Asian now. Do they look back there and think, 'Oh no.'?"
Myths are powerful, and the myth of the unshakeable, white East Ender is one that has endured more successfully on screen than it has in London's eastern boroughs, which are invariably more ethnically mixed than they were 50 years ago. For some British residents, their antipathy to change is articulated through practicalities. For instance, a funeral director whose family has buried generations of cockney dead recently told me that he doesn't see a future for the business in the East End because of the increased number of new Muslim residents, who have closer ties to mosques than a cockney funeral home. He was born in East Ham, as was my grandfather. His dad was originally from Bethnal Green. His family moved to Upminster when he was eight, and as an adult, he continued the well-worn trajectory into Essex, to Navestock and Kelvedon after that. "A few years back, my dad had the romantic idea of moving back to the East End he knew as a boy," he says. "But the East End he'd got cloudy eyes over isn't there any more. He moved to Silvertown, down the Camel Road. He survived about three years, then went back out to Essex, because, that's it – it wasn't there any more. There are only a few pubs left round there; literally a handful."
London changes; it's what it can be relied upon to do. On Brick Lane, Huguenot begat Jew begat Bangladeshi begat Somali, each in turn demonised by the assimilated populace. Metropolises, of course, voted in favour of remaining in the European Union; suburbs and post-industrial towns, we know, largely did not. There is an obvious line of inquiry to follow when trying to understand why different locales voted in different ways, and that's their contrasting attitudes to race and multiculturalism.
"This region has a very high population of ex-East End Londoners, and I think there is a mentality, a culture of hard work," says Barry, the 30-something founder of a building firm in Leigh-on-Sea, in the borough of Southend where 58.11% of people voted to leave the EU. "East Enders are grafters: dock workers, barrow boys. There is a culture of entrepreneurialism. I think that rallies against being told what to do by a faceless bureaucracy." Barry was born in Walthamstow, where I now live. Like many in Essex, when we talk of London, he brings up the fact that for him, it doesn't feel like home anymore. "Traditional London has been displaced. Instead of old money, who knew how to behave, we've got footballers, Arabs, oligarchs – new money. And the traditional working class are being displaced as well."
Barry's grandparents took advantage of Right to Buy, and moved to Suffolk ten years ago. "They didn't feel comfortable. They were too old to change their perceptions. Their friends and neighbours, who they shared a culture with, went to church with, were no longer there. It's not racist to express the dismay at the way your culture is being obliterated. People feel pushed out. I went for a drive past my nan's old house and I went down Leytonstone High Road – didn't recognise the place."
*******
But the homogeneity of Essex boroughs such as Castle Point, one of the whitest places in the UK, which in 2014/15 saw net migration of just 81 people, also fosters discord among British-born residents. "You just feel like such a minority [if you voted Remain]," says Hollie, a 41-year-old children's author who lives in Thundersley. "My gut feeling is it was to do with immigration – or at least a misunderstanding around immigration. Whether or not you could say in some parts of the country immigration is an issue, it certainly doesn't seem to be an issue round here, where it's overwhelmingly white British."
Hollie and her husband both worked in the public sector, but have been made redundant in recent years; Hollie was a youth worker, moving on to lecturing at Havering College before her job was cut in 2012; her husband worked at a Pitsea-based housing association until 2011and now cleans ovens for a living. "When I hear about the 'metropolitan liberal elite' it just makes me so angry. We're a working-class family, with no money. We don't even make it into Theresa May's 'JAM' category, we're so broke. We're clinging on for dear life. Austerity is a choice, but people don't seem to realise that the Conservatives have cleverly dressed it up as if they've got no choice." She mentions Theresa May's mooting of turning the country into Europe's biggest tax haven as a future for post-Brexit UK. "It's perfect for them: if there aren't any taxes, they can't fund public services. They'll say they have no choice, when actually it's what they wanted to do anyway."
I've always appreciated the aggressive bluntness of people in Essex. No airs and graces. Say what they think. But since Brexit, things have changed for Hollie. "I don't feel like I identify with that any more – I think we've seen the nasty side of that brashness, saying what you think. It's admirable if what you're saying is nice, but not if it's nasty and small minded." The morning after the referendum, Hollie remembers taking the kids to school. "I'd never really experienced otherness in my life. I just did not feel part of my community any more. I don't have any sense of belonging." Hollie and her family want to move away, perhaps to Scotland, as they no longer feel welcome. "People just assume that everybody round here voted Brexit. Everywhere you go, people are commenting, 'At least we'll be out of Europe soon.' As if we're all going to go back to this bygone era when Britain was a colonial power."
*******
Essex is car parks; commuter trains; brand new motors; fly-tipped fields; Barratt Homes; peroxide hair; toxic air; unchained City boys and girls, out on the lash, fuelled by pints and shots in an Epping or Southend nightclub. Essex is the withered plastic hanging limply from bushes on the road to Lakeside shopping centre. Essex is branches of Travelodge and Premier Inn with easy access to wipe-clean wedding venues set in securitised idylls. Green fields flanked by arterial roads and motorways, taut like police tape.
I didn't learn to drive until I was 30. As teenagers, we used to traverse the grand walkways dictated by the expanse of the Thames, up to Southend and back to Leigh. My mate Dan would stay round, as he lived in Grays in Thurrock, on the outskirts, where Essex bleeds into Greater London. Dan used to get the train to school each morning and would boast that he could see Canary Wharf's blinking light from his window. I remember him kipping round mine after a night spent wandering the estuary, staring out at Coryton Refinery, which transformed into an emerald city after spliffs and tabs. I remember his saucer eyes, on the eve of 2001, at a rave in a barn in Southend. We grew apart when we went to different universities, but he tracked me down when I started writing about our home county. I tell him I'm writing something about Essex and Brexit and we arrange to meet.
Last time I was in Thurrock, I was interviewing people who used to work at Bata shoe factory in East Tilbury, a company town built by a patrician capitalist-socialist from the old Czechoslovakia, replete with swimming pool, cinema, tennis courts and nice new, modernist homes for the workers. The factory closed in 2006, after years of scaling back after business went overseas. It was a happy workforce, by many accounts, and a mixed one. Maltese, Czechs, Polish, Irish and Sikhs. The people who used to work there set up the Bata Heritage Centre and now go round schools to tell kids of what used to be in the area before the place became a well-worn backdrop for anyone who wants a sense of decay in their film or TV show. But the other day, I read of an arson attack on the East Tilbury library, which destroyed the heritage centre's artefacts. Someone reversed a car into the entrance of the library and set it on fire, completely destroying the entrance and lobby.
Dan tells me he's not surprised. The old Bata social club in East Tilbury has become an EDL-friendly drinking establishment. Thurrock-born UKIP MEP Tim Aker may not have reached Trumpian levels of notoriety, but he came very close to being UKIP's second member of parliament after Clacton's Conservative MP defected to the party. Like Trump, or indeed Nigel Farage, Aker's shtick is a disdain for 'the elites' (personalised neoliberalism) who he says are to blame for the decline of areas such as Thurrock, mixed with populist interventions such as his pledge to scrap the tolls on the nearby Queen Elizabeth II Bridge, and a solid portion of strong-border rhetoric surrounding immigration. More recently, he has been fighting a curious, nationalistic battle with Thurrock council, erecting Union and St George's flags in Grays, South Ockendon, Aveley, Stifford Clays and Tilbury for Armistice Day. When the Tory-led council took the flags down again, Aker made hay out of the council's apparent unpatriotic behaviour. And, similarly to Trump, he exaggerates a sense of "carnage" throughout the land; and, like in Detroit or parts of Ohio or Arizona, it's not hard to find landscapes that illustrate the devastation that fuels such rhetoric. He has inspired a sense of action in a place that feels like it's being wound down.
When I meet Dan, we size each other up a bit. He never used to have a beard; I didn't wear glasses back then. We've both got a young kid: him a son, me a daughter. (Greta is now 11 weeks old.) His son isn't sleeping well and Dan looks a bit knackered. He takes me on a walk past "Grays beach" towards the Thames. The flood barrier is up. The Thames, a historical threat. We head west, and end up standing outside the Wharf Hotel, an 18th- century inn turned chain pub, with a timber frame. We catch up, shivering on a crisp and blue January day, looking out across this narrow stretch of river, waiting for the Wharf to open at midday.
We gulp down our first pints. During our second, Dan tells me that he voted Brexit. I don't know why that surprised me. The clues were there. Separated by the years, and the M25, we're further than the 20-odd physical miles we live from one another. Dan describes himself as a pragmatic libertarian. I suppose I'm an urban liberal with left-wing tendencies. We live in separate bubbles. Dan works in house clearance, a gig that takes him to some of the grottiest residences in Thurrock. I'm a fully paid-up member of the metropolitan elite, sitting at the desk of a national newspaper office each day, supposedly insulated from reality by a mediated veneer.
Dan describes his family as being about as typically "Thurrock" as possible: large in number, still quite tight-knit, half Irish/half local heritage. His aunts and uncles are a collection of entrepreneurs, ex-dockers and plant workers; most have strong socialist and Labour backgrounds, with the odd bit of vocal support for the English/British nationalist movement. His local papershop used to sell more copies of the left-wing Morning Star than the Times and the Telegraph put together, but not any more. "Obviously, I live in a slight bubble here. Everyone was out, out, out. But I still didn't take the decision lightly," he says. Nor did Dan think it would happen. "On the day of Brexit I sat there, bruv; I sat there in the fucking morning with about 150 quid in my Sky Bet account. I was like, shall I do it? Seven to fucking one, mate."
Dan doesn't think this country is a natural fit for continental Europe. "I don't feel comfortable with a proportion of sovereignty and decision-making powers [being given up]. Are my interests best served by politicians from Riga, Lisbon, Madrid, Tallinn? No, I don't believe so."
But then again, he doesn't think any politicians have his best interests at heart. "We've seen the rise of the career politician, mate, people who've never done anything other than be a politician. The EU has always been pro big business in a lot of ways. When it started out, the Iron Curtain was there and there was comparable wealth between the states. No one foresaw that dropping down and all of a sudden Lithuania, Latvia, Estonia, Poland, some of the Balkan states and also Hungary being drawn in. The EU just leapt in size, a bit more like a superstate, an empire."
Dan says voting Brexit came from his sense of fairness and unfairness. He wasn't interested in the bombardment of statistics from each side in the run-up to the referendum. Instead, he relied on his own eyes. "My nan and granddad, my mum and dad and me have paid into a system all our lives. The idea that someone could jump on an easyJet flight from Riga tomorrow and get exactly the same level of services when me and my family have contributed for years – these services are not built overnight, it takes decades and decades of investment."
He tells a story about an A&E waiting room in Kent after his son fell over and hit his head on a shower railing. "The only English accents were mine, my dad's and my other half's. Everybody else was from abroad. My dad looked at it as if I'm 15 down in the queue for an institution I built and my parents worked towards. We built this." I point out that the NHS might have been more affected by austerity than immigration, and anyway, immigrants have brought more money into the country in the form of tax – just look it up. "Aha, yes, they may well do, bruv – so am I going to base my entire idea on what the ONS says? This is the insanity of it: the right blame everything on immigrants and the left blame everything on the Tories."
Four pints in and we're not convincing each other, so we head to the pie and mash shop for some stodge. "Rarely do good things happen when people have been drinking, but what's worse?" says Dan. "People have a drink, or all the pubs go." Such considerations are part of the reason identity is such an important political subject today. People see change, and it's often for the worse. In Grays, the local theatre is set to close. In recent years, the ground of Grays Athletic Football Club, which stood for over 100 years and was a point of local pride, was bulldozed to make way for flats.
In a bid to help stave off further closures, we head to another pub. On the corner of the high street, Dan points out the office where he had one of his first jobs: the UK's longest-running sex chat-line company. "I was general manager for seven months. They started in 2001. Phone sex happened before that, of course, but the rest have chopped and changed since. They're invariably run by cocaine addicts. The geezer who ran that one, he died of a cocaine overdose. He was pulling ten grand a month out of it, snorting all of it."
By the time we're walking to The Traitor's Gate, our third pub, I'm well pissed. As the street curves round by the old Co-operative Society dairy, a gap in the terraced housing reveals the industrial riverside as the sun goes down behind factories. A glimpse of a workers' town built for a purpose it will never again fulfil. Instead, Grays is becoming yet another London dormitory area, meaning house prices rose by 17% between 2015 and 2016, faster than the national average.
We get more drunk and shout at the Spurs v Man City game. In between the action, I speak to Dan's cousin, who voted Remain. He studied at Brunel but came back to Grays and now works for his brother's Southend-based vintage clothing company, selling reconditioned shell suits to students. Why do you think Grays voted the way it did? "Around here, it's probably more to do with immigration than anything else," he says. "There are huge communities of different cultures and [English] people don't understand what's happening. Obviously, the population has increased: Polish, Indian, Malaysian. It's just the way the world is going. It's gonna happen everywhere eventually. People are gonna be fully integrated. I've never been a worrier, personally. What's the point worrying." Whether optimism or hubris, or the several pints inside me, in that moment, it felt good to imagine, just for a second, that we could simply wait this whole thing out.
*******
Somehow, I made it back to my parents' house in Leigh, and it is not until Monday that I take a train back to London. I stare out at the Thames from the bridge over the railway line into a soupy white fog that obscures the industrial Kent shoreline, looking forward to returning to my home on the city's edge. Since the disillusionment that first spurred my Essex walks, I've come to love life in the metropolis. Hayley, Greta and I share a flat in a quiet patch near the marsh and an industrial zone in Walthamstow, which was an Essex suburb until the boundary of London changed in 1965. An Oyster card gets you all the way to Grays, so how long before Thurrock is also swallowed by the ever-growing city?
The train hurtles past the creeks and marshland on the edge of Basildon. In no time, we're bundling under the M25 and into the city's suburban fringe. In Bethnal Green, new 'luxury' apartments are being built. Before Brexit swallowed the national debate, the big story was the scandal of the lack of affordable housing in London and its surrounds. The men in high-vis jackets could be from Potsdam or Riga. Or they could be from Southend or Grays, feeding off London's growth as the people of Essex have for centuries. Since the EU referendum, predictions have become folly, but I'd hazard that regardless of politics, this fractious co-existence between city and county will weather the many storms ahead. At the expense of what, remains to be seen.
***
Photograph by Tim Burrows