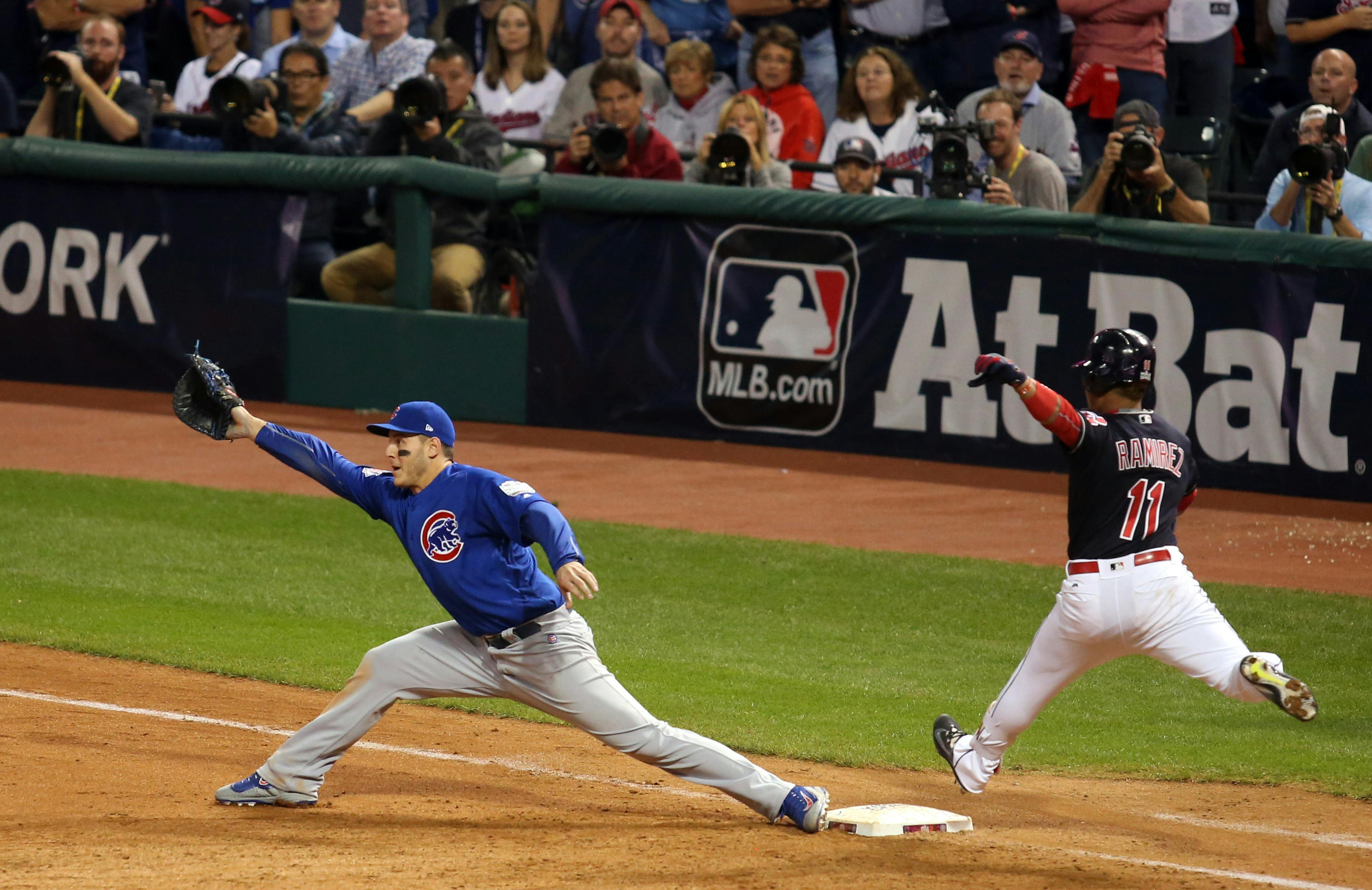 Flying the W: Returning to Chicago for the World Series
In memory of: James Cowie, Donald Taske and Marjorie Taske
In the spring of 1980, when I was three years old, my father took me to my first Cubs game at Wrigley Field. Our family would be moving to Canada later that year, and my dad wanted my first baseball game to be a Cubs game in Chicago at Wrigley, not a Blue Jays game in Toronto at Exhibition Stadium. Wrigley Field was built in 1914, and I suspect he was also worried that during the time we lived in Canada it might get torn down in favor of a modern stadium, and his son would never go there at all. The Cubs, and Wrigley Field, matter in my family.
I don't really remember the game, but my dad likes to tell two stories: one, that I was let in for free, because the ballpark wasn't particularly full that day, and the ticket window guy said if there weren't enough seats, I could just sit on my dad's lap; two, that the Cubs, as usual, were getting beat, but in the seventh inning, when they started mounting a comeback, I decided I needed to take an urgent crap. The 1980 Cubs finished the season with 64 wins and 98 losses, sixth place in the National League East.
In 1945, one year before my father was born, the Cubs finished the season with 98 wins and 56 losses, but were beaten by the Detroit Tigers in the World Series, four games to three. It was the last time the Cubs would make the postseason (also known as playoffs) until 1984, and, until this year, remained the last time they played in the World Series. They last won the World Series in 1908, a record, by some margin, in American sports futility.
In 1984, when I was seven years old and living in Canada, the Cubs won the National League East, but came up short in the National League Championship Series, losing to the San Diego Padres three games to two. In 1985, my family moved back to the Chicago suburbs, and, like most young Cubs fans, I developed the habit of watching their games on television after school. Until 1988, Wrigley Field had no floodlights, so all home games were played in the daytime, and I could catch the last couple of innings; for later starts, I could watch all or most of the game.
Mostly, I came home to watch the Cubs lose. In 1989, though, the Cubs won the National League East, before losing to the San Francisco Giants, four games to one. In 1998, the Cubs won 90 and lost 73, good enough for a Wild Card spot, but were swept three games to none by the Atlanta Braves. In 2003, the Cubs again won the National League East. They beat the Braves in the Division Series, three games to two, but lost four games to three to the Florida Marlins, after coming within five outs of making the World Series; you can look up the story of their Game Six meltdown elsewhere, because I don't intend to rehash it here.
In 2007, the Cubs won the National League Central Division, but were swept, three games to none, by the Arizona Diamondbacks. In 2008, they won the division again, but were swept in the Division Series by the Los Angeles Dodgers, three games to none.
Look at those dates: with the exception of those two years, 2007 and 2008, the Cubs rose from nothing for a single season and dropped back to nothing for five, ten years. It's enough to make most childhood Cubs fans consider, at the age of 12 or 13, swearing allegiance to Chicago's South Side team, the White Sox, who won the World Series in 2005. But my grandfather, born and raised in South Chicago, didn't choose the White Sox, and my father, born in South Chicago and raised in the western suburbs, didn't choose the White Sox, and I, too, born and raised in the western suburbs, chose the Cubs. Maybe that's what hurts the most: you can actually choose to back a team that wins, instead of these sad-sack losers who flash briefly in the pan before smoldering out again.
In 2013, at the age of 90, my grandfather—my father's father—died. I watched a lot of Cubs games on television with him, and went to a few with him, too. In his lifetime, the Cubs had made the playoffs five more times than they had in my lifetime to that point; during his youth, they lost the World Series in 1929, 1932, 1935 and 1938. About a year after my grandfather's death, my grandmother sent me a check for a significant amount of money, with the instruction to use it for something. I wrote back that some of the money would be held for the day when the Cubs return to the World Series, so I could travel to Chicago to be at or near Wrigley Field.
In 2013, the Cubs won 66 and lost 96 games, last in the National League Central Division. In 2014, the Cubs won 73 games and lost 89, a negligible improvement, last place again.
In 2015, the Cubs had their best season of my lifetime, and the best season of my father's lifetime. They finished the season with 97 wins and 65 losses, third best in major league baseball, and third best in the National League Central Division. They beat the Pittsburgh Pirates, who finished second in the division (and the major leagues) in a one-game playoff, and they beat arch-rivals St. Louis Cardinals, the best team in baseball that year, three games to one in the Division Series. In the National League Championship Series, the Cubs lost to the New York Mets four games to none; in the regular season, the Cubs had beaten the Mets each of the seven times they played each other.
Never in my lifetime—never in my father's lifetime—has "wait until next year" carried anything other than a sadly ironic meaning to a Cubs fan. At the end of 2015, though, it was a statement of intent, and the Cubs delivered in 2016, storming through the regular season to a major-league-best of 103 wins. In the National League Division Series, they beat the San Francisco Giants three games to one. They faced the Los Angeles Dodgers in the National League Championship, and won four games to two. I cried, watching them win Game Six. The next day I booked a flight to Chicago.
What a sports team means to its fans is essentially the same, regardless of the team. A team is a focal point for one's interest in the sport. Its games are events around which, to a certain extent, one organizes one's life, investing money in game tickets and travel, and time in front of the television, all of which could be spent on something else. Watching those games also requires investment in knowledge (about the players, the tactics, etc.) and emotion that culminates in joy or disappointment in varying degrees on a long, long scale, across a game, a series, a season, a lifetime, between generations. Sharing these values and experiences creates bonds of family and friendship among fans.
How a team and a fan create this meaning, however, is different for each team, each group of fans, and for each individual fan, and it is how that meaning is created that matters. To be a fan of the New York Yankees, or of the St. Louis Cardinals—teams that have, with only minor exceptions, won consistently for decades (the Yankees have won 27 championships, the Cardinals 11, and both have appeared regularly in the postseason throughout the history of Major League Baseball)—is to expect and enjoy success. To be a fan of the Dodgers or the Giants is to have celebrated success in New York only to watch your team leave for California, or to have adopted those successful teams in the 1950s when they arrived in Los Angeles and San Francisco, respectively. To be a Cubs fan is to watch bad teams year after year, a lifetime of bad baseball teams, dotted with the occasional fluke year that gives you just enough hope to make failure hurt all the more.
While non-Cubs fans spent the entire 2016 season reminding us that the team would break our hearts, Cubs fans knew differently. This team really is different. Where previous teams relied on one or two great players supported by a few others having career seasons they would never repeat, this team has been built with a mix of some of the best young players in the league, drafted during the years of abysmal loss totals, and veteran stars brought in through trades and free agency. It's not a team that collapses after an early or late home run, but one that—all season long—plays to the final out. It's not the case, as in the past, that fans have to believe in the team—we've seen the team do the job, again and again. Proof: for the first time since 1945, the World Series is being played at Wrigley Field.
I'd hoped to be joined in Chicago by my lifelong friend Ryan, who now lives in North Carolina, and with whom I've attended numerous Cubs games over the years. For a variety of reasons, Ryan is unable to come, but on the morning of Game Three (of a potential seven), the first in Chicago, my dad arrives in town. He lives in western Michigan now, a few hours from Chicago, and has rearranged his schedule to spend the weekend wandering around Wrigleyville and watching the Cubs with me. At $2,000 to $5,000 each online, game tickets are out of the question, but there are plenty of bars near Wrigley Field, and the atmosphere is what we're after.
The Cubs are playing the Cleveland Indians, a team that hasn't won the World Series since 1948, and last played in it in 1997, when they lost to the Florida Marlins. After two games in Cleveland, the series is tied one game each, and Cubs fans, my dad and me included, feel confident. At 11:30am Friday—the game starts at 7:00pm—there are huge crowds around Wrigley Field. I'd planned to watch Game Three in Murphy's Bleachers, a bar across the street from Wrigley Field, but people are already lining up around the corner to get in. Most of the bars around the stadium are charging covers of $50, $100, even $250. I can imagine neither paying a cover to watch baseball in a bar, nor wanting to spend time with the kind of person who does. We spend several hours wandering around the neighborhood, and standing outside the stadium, watching the crowds, watching batting practice balls fly over the wall and watching people chase them, everyone taking pictures, everyone wearing Cubs hats, Cubs jerseys, Cubs everything. I don't see a single Indians fan before Game Three, but they must be there. It seems the only greeting around the stadium, and in restaurants and shops, is "Go Cubs!"
A couple of hours before the game, we head to Joe's on Broadway, a bar I spotted the night before, which is not the kind of place to charge a cover. The clientele is a mix of regulars and people like my dad and me, who have come to town just to be here. The bar is decorated wall to wall with photos, memorabilia, and collages of news clippings from Chicago sporting triumphs past. Two of this season's best pitchers, the Indians' Corey Kluber and the Cubs' Kyle Hendricks, are facing each other, and the game continues tense and scoreless into the top of the seventh inning, when the Indians score: 1-0. Chicago native and Cubs fan Bill Murray sings the traditional seventh inning stretch, and all of Joe's on Broadway sings along, as if were we to sing loudly enough, the Cubs would get that run back. They don't, and the game ends 1-0. The post-game mood is subdued. But there are two more games at home.
In the middle of the night, I wake up with the sudden and clear realization that, having lost this game, the Cubs cannot win the World Series at home. Without really articulating it to myself, I'd imagined the Cubs winning all three home games, celebrating this monumental victory on the grass at Wrigley, the bars emptied, the streets full, my dad and I among the crowd. That won't happen now. The thought, combined with jetlag, keeps me awake and restless. The next day, I carry a general moroseness with me until late afternoon, when we're riding the El back up towards Wrigley, and the chatter of Cubs fans who have just arrived, from California, from Louisiana, from elsewhere, excited and positive, reminds me that this is a team that wins, and one loss is not a whole series.
One of Joe's regulars greets us when we arrive, and the whole bar sings along with Chicago singer John Vincent, who belts out the pre-game national anthem. Again, it feels like our singing is an urgent and necessary pull for the team. The Cubs score in the first inning, but give the run, and another, straight back in the second, and by the seventh inning stretch, they're losing 7-1. Nobody in Joe's is in the mood to sing along with Vince Vaughn's "Take Me Out to the Ballgame." An eighth inning run doesn't matter and the Cubs lose 7-2. One more loss and the World Series will be over. The bartender asks us why the long face—it's not over yet. This wasn't the plan, my dad keeps telling me. The feeling is familiar: the Cubs are letting us down, the hope was misplaced.
Several seasons ago, when I emailed my dad an angry rant about some Cubs' collapse, he replied with a simple message:
Doug,
How old are you?
How old am I?
How old is Grandpa?
Dad
This is probably the greatest poem ever written about being a fan of the Chicago Cubs. The feeling has returned. How old am I? A lifetime prepares you—generations prepare you—for this disappointment, Cubs fan.
Except this time it's the World Series, and it feels a little different, both deeper, because it's the World Series, and also less important, because at least they got this far. I'm already mentally preparing myself for the next loss, and to reflect that it's still been the greatest season the team has had since 1908 or 1945, and there's a next year, and this team is actually good, and built to last, and will be better next year. Next year. It's cold comfort.
The crowd around the stadium before Sunday's Game Five might be even bigger than Friday's, but it's also a lot more subdued, and there are a lot more fans from Cleveland. Tickets have dropped to $900. Someone has brought a goat and people are taking their pictures with it, but it seems like the worst time to be trying to break superstitions that I don't believe in anyway (the goat is another story you can look up someplace else). The only thing I want is for the Cubs to win a home game in the World Series. The Cubs have their ace, Jon Lester, pitching. We spend some time before the game in Joe's, talking to a guy who used to live in the neighborhood and who has driven down to be here for the last home game of the season. He used to drink in Joe's and is glad to see it's still open. He leaves just before the game starts, so he can listen to the crowd from outside the Wrigley Field gates. The Indians score first, in the second inning, but in the fourth, Kris Bryant, who is likely to win this season's Most Valuable Player award, hits a home run to tie the game, and by the end of the inning the Cubs are leading 3-1. There's no way they'll lose now. But: how old am I?
No: this is a different Cubs team. They win 3-2. It's the first Cubs World Series game win at home since 8 October 1945. We stay for another couple of beers and talk to other people in the bar, as still more blow in from the stadium. The bartender says our faces look a little happier. This win, everybody is saying, makes it a success; if they'd been swept in the home games, it would've been awful, unbearable, just like being a Cubs fan. But now it doesn't matter what happens in Cleveland, because we've had this win. My dad doesn't take this line, though. With the last out, he turns to me and says: We can do this. We can do this.
My dad travels back to Michigan on Monday, and when we hug goodbye at the train station I say, two more wins. I wonder whether I'm saying it to convince myself more than anything else. Tuesday morning after breakfast, I reflect on what it means to be Cubs fan. Sitting at a kitchen table in a rented apartment in Chicago, I also think about how watching and caring about baseball is a way for me to connect my identity, as an immigrant who lives in a city far away and very different from Chicago, not only to the Cubs fans in my family—my father, my late grandfathers, my late grandmother, my still living and cheering grandmother—but also to the city itself, which I still think of as a home that has shaped my life, interests and attitudes. The Cubs are both a window onto all this, and a cord that ties me to it.
Tuesday afternoon, I'm so worked up that my stomach feels like it's tightened into a small fist. Before the game, I meet the documentary filmmaker Mark Blottner, who shares my deep interest in the life and work of Chicago writer (and White Sox fan) Nelson Algren. We eat pierogis in a Polish restaurant before heading to Mark's regular bar, Phyllis' Musical Inn on Division Street. Mark is from Cleveland originally, though he's lived in Chicago for more than 30 years, and he's a White Sox fan. Nonetheless, he jumped on the Cubs bandwagon heading into the playoffs, and has been taking a lot of good-natured abuse from friends back home and in Chicago, and he gives it right back as good as he gets. One of his Cleveland friends labeled him a "bastard trader"; the traitor pun works and Mark has embraced it. He introduces me to the people already at the bar, and to Clem, who runs it, and he continues to introduce me to every new person who floats in during the game, telling them that I flew in from London for the Cubs. Clem starts calling me "London Town".
The Cubs jump out to a first inning three-run lead, and with another four runs in the third inning, and last year's winner of the Cy Young Award for the best pitcher, Jake Arrieta, pitching, the small fist unclenches, everyone around me relaxes; the Cubs win 9-2. Clem runs down the bar using a big foam hand left over from Halloween to high five us all. I've already decided this is where I'm going to watch Game Seven. I text my dad: one more win.
One more win and the Cubs will be World Series Champions. It sounds very close and very far away. Game Seven will be a rematch of Game Three, when Kluber faced Hendricks and the Cubs lost 1-0. But this will be Kluber's third start of the World Series, and only the second for Hendricks. The game is in Cleveland, not in Chicago. Does this put more pressure on the home team? Does it take pressure off the Cubs, distanced from their raucous, loyal, but fragile and frayed home supporters? A million questions about mood, about tired players, about strategy, collude to slowly tighten that fist in my stomach over the course of the day, and I try but fail not to think about it.
I'm flying back to London tomorrow, so I pack up my suitcase, which takes all of two minutes. I try to read a book, but can't. I leave early to meet Mark, and walk a long stretch of North Avenue and a longer stretch of Milwaukee Avenue to get to Polonia Square. By the time I get there, it has started pouring with rain. The talk on television is that the weather in Cleveland should hold, but rain is supposed to pass through around 11pm, so if the game goes into extra innings, it could have an effect. As we walk down Division Street, I'm thinking, will this same Chicago rain travel to Cleveland and piss on the Cubs?
Phyllis' is already pretty full. Almost all the same people there for Game Six have arrived, along with several others. There's still a little space at the bar and I settle onto a stool that I'll later share with Jim, a filmmaker, swapping places each time one of us needs to go to the toilet. Everybody's talking about the rain.
The game finally starts, and Dexter Fowler, the Cubs' leadoff hitter, hits a home run. The Cubs are ahead. It's only one run, but it's a start, and it relieves the tension; high fives all around the bar. I'd take a Cubs 1-0 win, though it's impossible that it'll stay that way in the final game, with so many players who have played so many games, and so many pitchers who have thrown so many pitches in the last week.
In the bottom of the third, the Indians tie the game, but it's no reason to panic. The Cubs jump back with two more runs in the fourth, and another two in the fifth, and now, 5-1 to the good, it seems impossible they could lose. But it's only half way through the fifth inning. Clem runs down the bar with the foam Halloween hand. Mark's friend Monica has arrived, and says, with a confidence I don't share, that these guys are going to win this. I tell her I'm too much of a Cubs fan to count any unhatched chickens.
In the bottom half of the inning the Indians score two runs, and when I look to Monica she rolls her eyes and tells me they're going to win. The Cubs score again in the sixth inning: 6-3. They can't lose. Can they? How old am I? Heading into the bottom of the seventh inning I tell Terry, next to me at the bar, that the only thing I can think about is nine outs, and if I can just count them down, one out at a time…
Each moment of the game seems to have both magnified and slowed down now. Into the bottom of the eighth, and the Cubs need six outs. Five outs. I shouldn't be doing this, but I can't stop. Four. The Indians score three runs, after a single, a double, and a home run. Then another single, followed by a strikeout that ends the inning. They only needed four outs, I wail. Monica says it's a tie game, and they're going to win, don't worry. This voice of unfounded confidence and reason would normally be the last thing I want to hear, but it works: Monica's calmness keeps me from completely imploding.
It's raining in Cleveland as they play the ninth inning. Nobody scores, so the game goes to extra innings, and as the broadcast goes to a commercial break, we see the grounds crew pulling the tarp over the field.
The game will be delayed by rain. Nobody knows for how long. What if they have to call it off for the night? Everybody in the bar wants to know when I'm flying back. Tomorrow. If the delay lasts long enough, if they postpone the game and pick it up tomorrow night, I'll be flying across the Atlantic Ocean, with no way of watching the game's climax. When I was booking the flights, I spent a lot of time trying to decide when to return. I always thought the Cubs would win at home, so theoretically, I could fly back Tuesday and not miss anything, or, if it did go to six or seven games, watch them back in London. But that seemed to defeat the purpose and spirit of the trip; not to be in Chicago, not to be able to step out onto a Chicago street when the final game was over, and experience that feeling in that place, win or lose, wouldn't serve the purpose of remembering and honoring those Cubs-loyal grandparents.
I hadn't been able to attend the funerals of either of my grandfathers or my grandmother, and in the days before I left for Chicago, I began to realize that part of the reason I wanted to spend the World Series there was as a means of personal memorial to, and celebration of, each of them. Now the rain is jeopardizing all of it, and sitting at the bar, talking to Mark, to Terry, to Jim, to Monica, I start to feel upset that this week could turn into nothing more than a nice time watching baseball on TV.
After only seventeen minutes the rain clears and the tarps come off. After the game it will emerge that the Cubs players spent this time having a meeting, in which they reminded themselves that they were good enough to score some runs, get some outs, and win the World Series. In the top of the tenth they score twice, to take an 8-6 lead. See, Monica says, they're going to win. Three more outs, I tell Terry, and he tells me back, three more outs. My dad sends me a text: how you doing so far? I reply: just another day at the office. Carl Edwards, Jr. strikes out Mike Napoli. Two more outs. Carl Edwards, Jr. gets José Ramirez to ground out. One more out. Carl Edwards, Jr. walks Brandon Guyer. Rajai Davis, who hit the home run that tied the game in the eighth, is now batting. He hits a single, and Guyer scores. It's 8-7. Groans across Phyllis', across Division Street, across Chicago, across the generations. Stay calm, Monica advises. They're going to win. They only need one more out. Mike Montgomery replaces Carl Edwards, Jr. I text my dad: a groundball out would be nice.
The next two pitches last an entire lifetime and longer. Montgomery throws a strike to Michael Martinez. The next pitch, Martinez hits a slowly chopped ball between the pitching mound and third base. Kris Bryant fields it. Kris Bryant throws it, slipping as he does. Anthony Rizzo catches it at first base, and puts the ball in his back pocket. I am standing on the rail of the bar, my hands in the air, my eyes wide open. I turn around. Mark is jumping up and down. Monica is jumping up and down. Everyone is jumping up and down. I can't move. Mark puts his hand towards me. I high five. I hop to the floor. Above me, the bartenders are dancing on the bar. The Cubs' victory song, a terrible song written in the 1980s that everybody loves anyway, because of what it means, is playing. I high five, and hug, Terry. I high five Jim. A firework has gone off outside, and another. I'm shaking. I can't stop shaking. I always thought I would burst into tears when the Cubs won the World Series, but I am numb and stupid with joy. I go outside. Cars with flags are honking their horns down Division Street, people are singing and high fiving and carrying flags down Division Street. The Cubs have won the World Series. I'm so worn out. After an hour, I get a taxi home and spend another hour watching the post-game interviews and pictures, tears welling up every so often, until I'm just so exhausted I have to go to sleep.
The next morning, I walk around the downtown Loop area for an hour or so before taking the El to the airport. I resist the urge to shout Go Cubs! and high five every single person who is wearing a Cubs hat or Cubs shirt, which is most people. The Cubs have won the World Series. I teared up several times while watching highlights and interviews on television this morning, and I will again once I'm home in London, rewatching the game, and watching the victory parade and rally on the internet.
Being a Cubs fan on 3 November is different from being a Cubs fan on 2 November, though I think the change really started when they beat the Dodgers on 22 October, or maybe it changed at some small point this season, barely noticed, when they made another play or won another game. No Cubs fan could say how it would feel, and only after a few days has it started to feel real: the Cubs are World Series Champions. Our parents' hope and misery, our grandparents' hope and misery, our own hope and misery, have earned out and paid off, through a team, and through the memories and imaginations of every Cubs fan. After this, the Cubs are a little more like other teams, and no longer haunted by a long history of near misses, failures and outright chokes. Younger fans will be Cubs fans in a different way, and I'm glad for them. The Cubs won the World Series. They might win another soon, or they might not. Cubs fans should enjoy the ride for as long as it lasts.
The Cubs will be a normal team for the first time in living memory, but Cubs fans who lived through it won't mind, because the way we got there wasn't like anything else, and those we shared it with, living and dead, they weren't like anybody else, either. Every Cubs fan has an individual story of why the World Series mattered to them. How we got there is shared between us all: a team of baseball players put us on their backs and did not stop playing until the ball was in Anthony Rizzo's back pocket. And the joy it brought us.
***
Photograph by David Richard // USA Today