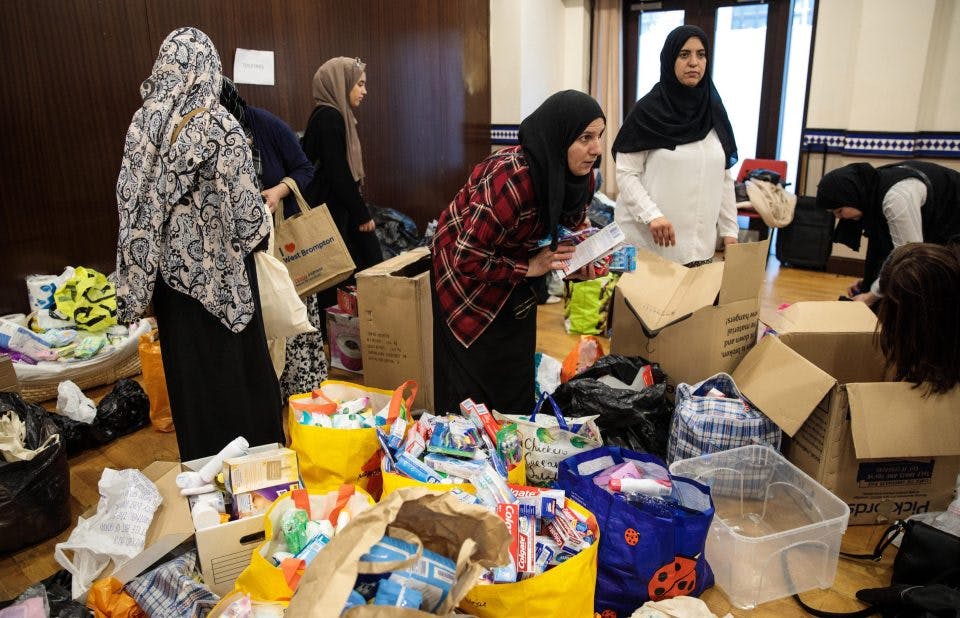 Grenfell: Community, Spirituality and Safe Spaces
We've reached a strange impasse when a generation that shuns organised religion claims to be more spiritual than ever. When it believes enlightenment will come via lunchtime vinyasa flow – if only the west African churches next door could keep their "massive ghetto blasters and screaming" down. Yogarise studio's comments about their Peckham neighbours to the Evening Standard were much more than an embarrassing blunder, they were indicative of an ugly, usually silent, intolerance that's built up towards religious spaces and communities. Faith is something in decline, you see, the sole preserve of the maniacal, the uninformed – the foreign. It inhabits places many of us only visit for weddings and funerals which, in most secular minds, are otherwise synonymous with abuse, radicalisation or a wilful rejection of modernity.
During the 2011 riots, an anecdote of how one London mosque opened itself up as a place of refuge was shared across social media. In Southall, news photographers took pictures of Sikh men standing peacefully outside their temple in defiance. Religious leaders of all faiths took to the streets in Hackney and Tottenham, where the pressure cooker had first boiled over, to call for calm. These stories served as antidotes to the violence and frustration that too many of us naively assumed would never explode in our capital.
It seems to take impossibly sad failings of the state for us to shelve our derision towards religion. Waking up to the borderline hallucinatory images of a tower block burnt to destruction near the centre of London, brought back memories of the Carpetright building being engulfed by flames. Once again, on the ground, appeals for calm were made by local faith leaders. But it was soon apparent that their collective role would need to be much greater this time. In the immediate aftermath of Grenfell, a policeman patrolling the cordon around the evacuated area, not knowing my profession, lowered his voice to intimate that neither the authorities nor local government provided them with any information because they "didn't want the press to get a hold of it." As calls to Kensington and Chelsea council rang on fruitlessly, the network of faith institutions organised. 
**********
Around two in the morning on June 14th 2017, Simon Blanchflower from Latymer Community Church, a small building nestled almost directly beneath Grenfell Tower, began receiving frantic phone calls. Latymer – as all the neighbouring churches would come sun rise – opened its doors to survivors and those evacuated "for a cup of tea or just somewhere to be quiet and process what had happened." By daybreak, there wasn't time to answer texts let alone navigate the flurry of conflicting information being shared online. Instead, it fell to locals to cycle between the area's inundated churches, mosques, temples and community spaces to establish what was happening. How 
much manpower was required and where? Which faith space would take on what role? What donations were needed? But the most pressing question remained: where were the council?
The groundswell of support was both "chaotic and heartwarming," says Blanchflower, by the now rain-soaked shell of the tower. As the weeks and months have passed, the once delicate relationships between multiple faith organisations have been bolstered by their common goal of creating stability. "We have two Grenfell residents in our congregation who are yet to be properly re-homed but still come to our exercise class, so they have that anchor in their lives. Our church, or any space like ours, is not just about worship but [also provides] comfort and solace. For me, it's somewhat of a fallacy that there is no community in London. Many people see it as this huge, sprawling city, but within that there are villages and long established communities, and faith groups are a big part of that. It's funny, even if someone only goes to church at Christmas they'll still think of it as 'their' church."
**********
Volunteers from the Central Gurdwara (Khalsa Jatha) had also heard the blare of fire engines and helicopters intensifying as that tragic night wore on and had sped down to the estate with as much bottled water as they could get hold of. They arrived to find people roaming the streets in their nightclothes, without shoes – speechless as their heads swirled trying to process trauma that no soul should have to experience. How the walls had begun to bubble with the heat. How the smoke turned the air into toxic sludge. How the staircase – the only exit from the tower – grew soft underfoot as the bodies piled up. Every fire department, not only in London, but stretching across the Southeast was summoned to the estate. But for Grenfell's neighbours, their arrival seemed to take an eternity as they watched people in the tower screaming for help, waving blankets from the windows and desperately using the lights of their phones and homes as SOS signals as the fire closed in. Then the lights stopped. Horrifyingly soon, the only noise was the roar of the blaze tearing relentlessly up the building. 
In the morning, Sikh volunteers joined those providing food outside Latymer. At one point a group of teenagers brought buckets and buckets of KFC chicken down to their own make-shift stand alongside those methodically serving home-cooked meals. Gurpreet Anand Singh, an elder who helped organise Khalsa Jatha's emergency response remarked: "a lot of young people started coming to the area to help and bring donations once they saw us all working together, and that very quickly changed the atmosphere to one of reflection. Yes, everyone was angry but it became clear that any form of rioting was not a solution and [our collective response] needed to be more thoughtful. There needed to be a way to take advantage of the fact that there were so many communities working in unity."
The UK's oldest Sikh temple, Khalsa Jatha's gold flecked exterior is encircled by some of the capital's most expensive streets. "There is a massive wealth divide in the area that allows you to see both sides of the coin, good and bad. Most of the wealthy residents did not hesitate to help, they were as involved in the volunteer operation as any of us," Gurpreet affirms. "But then there are also those that see us solely as a prime piece of Holland Park real estate, so we're often fighting for our existence purely because of our land value. You get the sense they'd like us gone... And when these same people wanted to hide us by surrounding us with trees, because we weren't considered the "right" faith for the area then the council were loud in appeasing them. But during Grenfell they vanished, nobody could get through to their offices, they'd gone entirely into hiding. To say the authorities didn't do 'enough' is not accurate... they did nothing."
**********
"I have lost my family, I have lost everyone, you can't bring them back" – words cried out so viscerally that time seemed to stop. A group of solicitors had gathered to field questions for the community at Al-Manaar Mosque and Muslim Cultural Heritage Centre, but in that moment all were lost for words. 
Al-Manaar had begun the unenviable task of acting as mediator between a community whose wounds will take a lifetime to heal and the pursuit of justice for one of the worst human rights failures in London's history. In comparison to local government staff, who literally fled as residents descended on Kensington Town Hall, Al Manaar managed to be poised and blisteringly organised, given the circumstances, without sacrificing any humanity. Prayer services and the type of spiritual introspection that such tragedy triggers, ran alongside the mosque's arrangements for long-term counselling as well as the minefield of equipping survivors with genuine legal support.
Lotifa Begum, a member the Grenfell Muslim Response Unit that supported Al-Manaar in its efforts remarked, "The mosque opened their doors to provide a safe space for everyone, regardless of faith or even those with no faith, but the community was also in urgent need of practical support. Not just in the first days, but weeks later. We gave cash grants to survivors as families were struggling to buy essentials for their children, even things like money for phone credit hadn't been taken into account. But what quickly became crucial was the need for sensitivity around end of life beliefs – ensuring people buried their loved ones with dignity. The faith groups were instrumental in bridging that gap which the authorities weren't able to." 
More than once in that first week, in the abnormal sweltering heat, concerned clusters of people huddled around someone who had fainted. Typically a volunteer who had been fasting for Ramadan and on their feet until the early hours of the morning, ferrying and sifting through donations. Five days after Grenfell, Darren Osborne drove his van into a group of men holding night-time prayers beside Finsbury Park Mosque, killing 51 year old Makram Ali. Following a spring punctuated by mindless attacks, the same publications that have made it their bread and butter to demonise an entire religion, found themselves in the rare position of having to show basic empathy to the Muslim community. 
**********
At the end of September, hundreds crammed into Al-Manaar mosque as it held yet more funeral prayers. This time for two children and three women finally confirmed dead. Rania Ibrahim and her two young daughters were found at the top of Grenfell Tower on the 23rd floor. Her husband, Hassan, had been in Egypt at the time of the fire and flew back to the UK having watched his wife's last moments play out in a Facebook video. While praying, she'd briefly opened her front door to a wall of smoke and cacophony of alarms, before returning to the window to catch her breath and shout down to the police and fire crews seen furiously weaving their way towards the building. Mother and daughter, Fathia Ahmed and Isra Ibrahim, died alongside Rania and her children, having appeared to take refuge in her flat. Their son and brother, Abufars, died having jumped from the building. Their remains were all taken to rest in the Gardens of Peace.
Now nearing six months on, the official death toll of 71 has been released to a numbed reception, as the same questions remain unanswered and the hope for atonement by the authorities continues to stagnate. On her way to pray at Al-Manaar, I asked Aisha*, a Lancaster West Estate resident, how important her mosque had been to resuming everyday life. Without hesitation she explained that it was not just somewhere for prayer, but where the community would bond before and after the fire. Grenfell had just thrust it into the public spotlight. She smiled as she explained that her daughter had enjoyed a day of face-painting for children in the area, arranged by the mosque, many of whom had lost school mates. "At the same time as wanting them to grieve you also want them to just be normal, happy children. It's still so hard to explain that they aren't going to see those friends again and why what happened happened, because even now, us, the adults, are still trying to understand ourselves. This is the richest borough in the richest city in Britain, how do I explain why their friends were allowed to die in a tower block fire?"
**********
Donate to the Christmas for Grenfell Appeal to bring Santa to all the community's children here.
***
Photograph by Getty Images