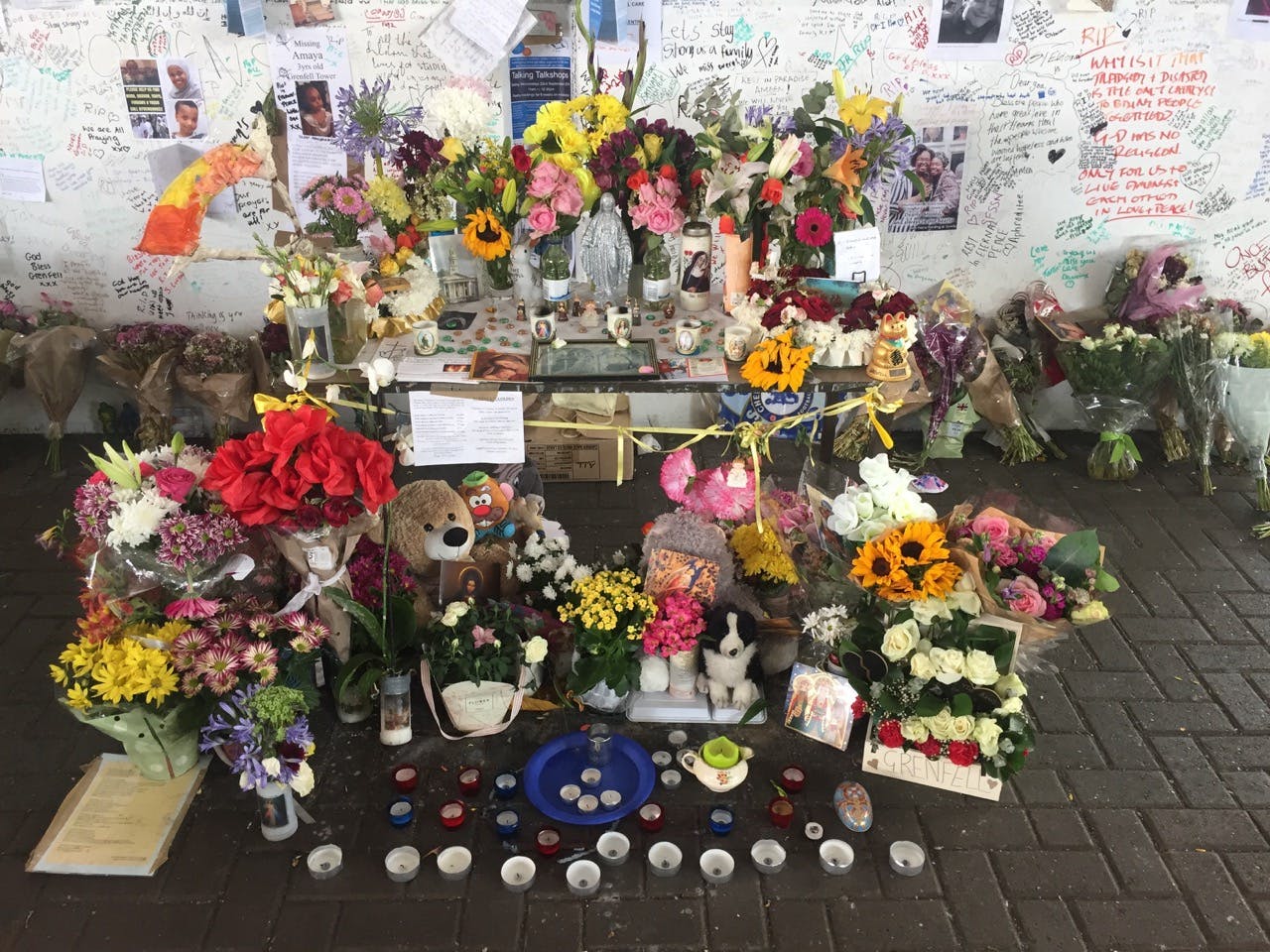 Grenfell Exposed London's Negligence Towards Its Immigrants
London is a struggle if you're broke. London if you're a broke immigrant, however, is unfathomably cruel. The Grenfell Tower fire is the most painful manifestation of this the capital has ever seen. One month on and everyone is an expert on the architectural cladding that's now being torn off tower blocks across the country. Every media outlet has run a polemic on the politicisation of tragedy. But beneath the immediate grief and rage, the conspiracy theories and recounting of immeasurable trauma, is the ugliest story of all: this city does not care about its immigrants.
The tower block was also home to the poor, white working class, but it is borderline criminal to ignore the names and faces that circulated frantically on social media following the atrocity. Mohammed al-Haj Ali. Khadija Saye. Abufars Ibrahim. Ligaya Moore. Briket Haftom. Ernie Vital. First- and second-generation immigrants. The 'wrong' kind of immigrants; the ones who arrive in London with hopes of a better life, but no cash to blow on property. The ones scrutinised not in human terms, but as an economic deficit. The ones displaced to Britain from countries rocked by conflict, corruption or a profound lack of opportunity, who bring their 'strange' beliefs with them. It's been a month that has provided little peace. Now, as the death toll stalls, we are coming to terms with the fact that, in those flats, refuge was being provided to dozens of undocumented friends and family members as they found their feet.
The failure of our capital to provide its immigrants with homes that are safe and affordable is scandalous. In Paris and New York, a few metro stops beyond the creeping ivy of gentrification is where you'll find immigrant communities, ghettoised and maligned. But London plays a different and, in many ways, more sadistic game, where immigrant enclaves exist amongst increasingly gross levels of wealth – suggesting that to dare to call the area home and live amongst such luxury, the impoverished must adjust their expectations of quality of life.
Nowhere in London is that divide more vulgar than in the borough of Kensington and Chelsea. In 1970, John Boorman released an absurdist film, Leo The Last, about a deposed monarch who returns to his decadent North Kensington pad to find it's now smack-bang in the middle of a racially charged slum area. In one scene, the main character grows horrified as his peers in evening gowns and tuxedos stuff their faces with food and Champagne, almost to the point of vomiting. Yet stronger revulsion is reserved for the struggles of his immigrant, poverty-stricken neighbours, who he spies on from the comfort of his mansion, as if bird watching. After its release, the streets where Leo The Last was filmed were redeveloped as part of a slum clearance order, and the Lancaster West Estate was built. Grenfell Tower: the estate's star attraction.
Today, a short walk away from Grenfell, is what used to be Mangrove Restaurant – once a hotbed of black activism, now owned by a chain that flogs cocktails and games of ping-pong to the cast of Made In Chelsea. Little Arabia in nearby Edgware Road is crammed with shisha cafés, Earls Court with grocery shops representing every country from South to East Asia and, on the borough border, Goldhawk Road is an Aladdin's cave of Indian fabrics. At first glance, it's an area which exemplifies the diversity London is often praised for, and which gives property developers a pass to use words like 'metropolitan' and 'gritty', as immigrant communities play scrappy sidekicks to Kensington's fabulous elite. The London that's illustrated with photos of young-'n'-savvy couples inexplicably laughing at their falafel or police officers giving each other a nudge and wink at scantily clad Notting Hill Carnival queens.
In reality, the capital's lack of space – its most sought-after luxury – creates a false sense of harmony. It's a coexistence masquerading as unity that pushes immigrant businesses out and replaces them with pop-up restaurants opened by rich kids who've had an existential crisis and decided their true calling is jerk chicken. But Londoners need to comprehend and accept that these immigrant spaces that bring the capital such powerful pockets of colour and culture do not exist solely for their own enrichment, but to comfort and anchor communities in a city that, in every other respect, won't let them settle.
In the week following the fire, a surreal bubble around Grenfell Tower became one of those spaces itself. Police bully vans parked haphazardly across road entrances to block off traffic, and surrounding Tube stations were closed. The blaze had raged for 24 hours straight, and the authorities became convinced it would collapse. On the skyline, it looked like it would collapse. It still does. A matte black shell that looks as fragile as a burnt-through match. Abruptly kicked off the Underground, strangers crammed into minicabs together, laden with donations or made their mass pilgrimage to the tower by foot.
Whichever direction you approach it from, Grenfell initially disappears behind the trees that line streets of Georgian houses with freshly painted cast-iron gates. The noise of the main roads and that smog that makes you sneeze grey temporarily soaked up by freshly preened privet hedges. They are homes so quiet you question if they're even lived in. Soon enough, you are surrounded by tired 1970s maisonettes whose railings are first dotted with then covered by missing-person posters. On the first Sunday, I watched an elderly man methodically work his way down an entire street of posters, adding his number in biro to one with: 'Please call granddad'.
In the void created by the council's loathsome inertia, the stretch from Latimer Road station to under the Westway flyover became the hub of a military-like volunteer operation and thronged with more immigrant faces than I have ever experienced in London. Street corners became soapboxes, places for prayer became places to organise, dazed evacuees and Grenfell survivors were guarded fiercely from the descent of a media circus. People began to heckle the news reporters who stood out so starkly in the crowds. One cameraman was plucked back by the scruff of his t-shirt after absentmindedly traipsing into the prayer area of a mosque, while trying to get the best shot. The palpable grief and bewilderment was punctuated with smiles as people bumped into old friends. 
At one point, the section under the flyover was crammed with separate prayer circles that began to blend seamlessly as they recited the Lord's Prayer together. A skinny boy riding by slowed as people began to clap solemnly at the 'Amen', stood up straight on his pedals and yelled, 'As-Salaam-Alaikum!' For a moment, the crowd that had formed relaxed into laughter. 'And to you, brother!' the man leading the prayer replied. In the same space, sheets were spread out on the pavement ready to lay out food to break the Ramadan fast as the sun came down. The heatwave made it easy to stay out on the street chatting to strangers until the early hours, and not one person didn't want to talk or vent, or just marvel at the levels of bullshit that had lead to this tragedy.
Had it not been for the smouldering reminder of the state's negligence that loomed over it, it would have appeared a scene of multiculturalist utopia. There is no disputing that helping hands and extraordinary kindness came from all sections of the community – rich, poor and of every colour. But in that bubble, just as it became impossible to ignore the origins of the victims, it was impossible to ignore those who crossed the city in droves to pay their respects. People who felt compelled to physically place themselves by the tower because they felt the residents' pain and anger in their bones. In Grenfell, people could see the endgame of being marginalised not just by poverty, but also because of where they came from.
During that week, I met teenagers to retirees from almost every borough. Naziah and her friends from Tower Hamlets took two taxis and completed a marathon walk in the heat, carrying bin bags bursting with clothes, toiletries and phone chargers. Mo from Southwark called in sick to assemble new furniture and sift through donations. Nina from Enfield, a graduate counsellor, had trekked down in the hope that she could at least provide survivors with a sounding board. David from Waltham Forest seethed, 'I could just feel myself getting angrier and angrier looking at this play out on Facebook. I knew that if I didn't come down, I'd regret it.' We talked about how this was a stretch of road many Londoners may only know from Notting Hill Carnival, and how even that was being bullied into submission, under threat of being reduced to a politely ticketed event. Amongst the flowers and on the memorial wall now covered in marker-penned prayers and condolences were messages of solidarity. 'Brixton will not forget you.' 'Camden stands with Grenfell.' 'From East to West London, we are with you.'
Rain broke the heatwave, and over the course of a month, Latimer Road to the Westway has reclaimed a modicum of normality. But the unity in fury that made the air of those first days crackle with anger, will remain for as long as it takes Grenfell to find justice.
**********
On the night of the fire, Mona, a nurse, arrived home from a late shift to find the sky glowing and the entirety of her block stood outside, hopelessly watching the blaze, paralysed by its speed and intensity. Almost two weeks later, she returned to the flat she shared with her teenage son. An acrid, chemical smell still lingered, and through the frosted glass window of her bathroom, the tower looked like a pillar of jet black.
After the sudden death of her husband, she'd fought a dogged fight to keep the flat until her son had finished school. She joked it was a battle that had aged her a hundred years but, like every resident you talk to in the area, Mona spoke with such clarity and composure it was unnerving. It was never 'The Council', but exact names and job titles – Kensington and Chelsea Tenant Management Organisation, Laura Johnson, Nicholas Paget-Brown, Amanda Gill, Robert Black. Though she was relatively new to the area, Mona had become friendly with residents from the tower through neighbourhood chit-chat and bonding over shared frustration with KCTMO. Many of these acquaintances haven't been seen since the fire. Grenfell's action group had always been more visible and prolific than most estates', but to prophesy the tower's fate not once but dozens of times was chilling. I asked Mona what she thought the next year would bring and she was resolute. 'Nobody will be re-homed here, at least not forever. They'll move them out of London rent free, to shut them up. Then they'll knock the tower down and say everyone around it has to move so they can build new flats... safe flats.'
Even in the shadow of Grenfell, her flat was comfortingly familiar, like many I'd sat in at parties during school summer holidays, with the plastic chair coverings sticking to the backs of my thighs. They were always oddly palatial, as if there was a cross-immigrant diaspora agreement that no matter how small your home or how temporary your council house, you'd fill it with as much ephemera as possible. Brass clocks, colourful, home-sewn curtains clashing with thick pile carpets, walls you could barely see for plates and picture frames, and small armies of porcelain ornaments. At ours, for reasons I'll never know, we had a glass, gold-rimmed cabinet filled to bursting with ceramic cat figurines next to woven abaniko fans and Catholic statues.
Restaurants, cafés and shops, community centres, places to pray or to celebrate, Carnival, and the estates – they are all spaces that will continue to be drained of life as long as London remains a playground for property developers. But, at the very least, an immigrant's home should be a refuge, a haven. Instead, Grenfell's story serves as a cautionary tale of gambling everything for a home in a city you hope will catch you if you fall, only for it to snatch your life away as you sleep.
Before I left, I asked Mona if she even wanted to stay, having to look at that tower every day and at the mercy of a housing system that cannot even guarantee her safety. The prospect alone seemed to upset her – 'It's not much, but it's my home.' 
**********
Go here to donate to the British Red Cross London Fire Relief Fund.
***
Photograph by Joanna Fuertes