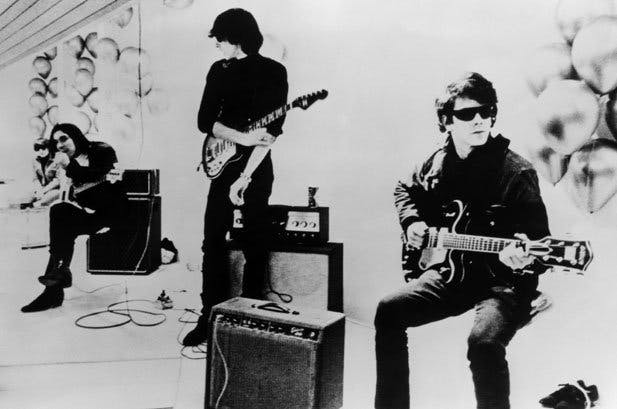 The night Lou Reed died, I was at a sex party in a Manhattan loft. As erections brayed like seals around a circular bed where two women slid and licked across each other, 69 kilometres away in his Long Island home, the guy who wrote Femme Fatale and All Tomorrow's Parties — whose work came to represent New York's decadence as James Joyce's had Dublin's privation a century ago — had just lost his battle with liver disease at the age of 71.
Walking along Bedford Avenue in the October morning light the next day, every coffee shop, burger joint, sushi bar and boutique clothing store was conjoined in an orgy of maximum Lou. If you could have hung a microphone from a cloud above this part of Brooklyn, you might have been forgiven for thinking that not only had the singer/songwriter freshly risen from the dead, but also multiplied into a thousand-strong army of Lou Reeds, all singing his entire, 48-year spanning oeuvre at once.
"What the fuck happened last night?" I asked Deborah as we got coffees from an espresso hut playing Reed's 1973 solo album, Berlin at full tilt. (Deborah is the pseudonym I've given to the friend I'd ventured to the party with and, out of respect for her privacy, I've kept her involvement in this recollection to the bare minimum.)
"It was her, don't you remember?" Deborah was talking about a woman, this beautiful woman, who had picked us out of the jumble of Hallowe'en revellers in the Alphabet City bar we'd been drinking in less than a dozen hours before. All around us, collegiate kids in luminous skeleton outfits had been roaring while taking it in turns to down their beers. And then there's this beautiful woman, towering over everyone, Afro-haired and fur coated, and she was talking with Deborah. She was attractive in a way that had me re-evaluating the appeal of everyone I'd had a crush on in the last however long. We quickly came to refer to her as Pam Grier. So, when Deborah came bounding over to me holding a business card and saying, "We've been invited to a sex party!" it was like being thrown a lifeline. A very sexy lifeline.
From time to time, I'd listened with envy as friends recounted wild happenings in the hot tubs of Berlin's KitKatClub and the like, but despite losing my virginity as part of a clumsy threesome in the back of a Volvo, I had never been involved in group sex. My curiosity was always overruled by the fear of entering into a twilight world, where bored swingers, back-rubs and Michael Fassbender's character in Shame hung around twitching in a side-street sauna. But this felt different: I was with Deborah and she was excited and I was excited, and the party was in the Manhattan district of Chelsea, which Street Advisor had described as "sleek and sexy".
"Oh, yes," said Deborah, as we got into a taxi. "When we arrive, we have to pretend to be a couple." This was very important. The most fundamental and to-be-upheld-without-any-exceptions rule being that while women could arrive on their own, men could only enter with a female companion. Pam Grier had stressed to the letter the upmarket nature of the party. We weren't talking balaclavas and bukake. And so that was it; fears dispersed, we were on our way. As Deborah drunkenly repeated the address scrawled on Pam Grier's business card, I imagined Venus In Furs by The Velvet Underground brought to life: strange, delicate and slightly satanic subterranean beings moving together as one. The driver skirted Union Square and up past 14th Street. News of Lou Reed's death was still to break.
"You're a couple, right?" A guy, clad head to toe in Cos, greeted us from an elevator entrance on a silent street. The guy, who I'd later learn was called Tim and wanted to be a writer, looked on intensely as Deborah and I clutched hands, before ushering us into an elevator. As the doors buzzed open at the top of the building, a short lady, waist wedged into a leather corset, a metallic snake coiled around her head, beckoned us towards a DIY workbench in front of a rickety oak cupboard which doubled up as a cloakroom.
"$160!" she said, with the nonchalant half-smile of a Brooklyn barista. I handed over our fee as my eyes re-focused, discerning shapes and movement under the low lighting beyond. A few leather armchairs arranged in circles, two chandeliers and some sofas, as if the owner was in the early stages of moving in, or the latter stages of moving out. Several dozen people milled about in groups, the way they do at an art opening. Most of the women wore synthetic corsets, some net stockings, some knickers and bras, a few were just in knickers and a few others, nude. All the men were either naked or observing some unofficial uniform of top-button-undone jeans and bare chest.
"If I really had to pigeonhole this look, I'd say R&B goth," I caught myself saying, before looking down at my tweed blazer and brogues and wondering what the hell they were going to make of me.
As the dimensions of the room opened up, I became aware of an amber glow escaping from the corner of the loft. I followed it to a room at its far end where inside, on a huge mattress, a group of five or six people sat around, casually naked and chatting. While on an adjacent mattress, two couples were locked into sex. I had entered at the precise moment that the rhythm of one of the pairs had picked up sufficiently for the woman, whose legs were raised skywards, to start gasping. Seconds after, the woman in the other couple, legs similarly aloft, also began exclaiming out loud — yelling stuff like "Oh, fuck" and "fuck, yes" and "fuck my pussy, you dirty fucking piece of fuck". The first woman swiftly upped her tempo and volume, throwing in a "You like that? You like that do you, you fucking cunt lover" into the mix.
I sat down with the people on the mattress, who were college-age and discussing the recent breast enlargement one of their number.
"What do you reckon?" the girl with the enlarged breasts asked me, with a mixture of pride and uncertainty, as she directed her chest towards me.
"Can I touch?" I said.
"Sure," she said. And, for a second, I touched her breast with all the carnality of a stranger lighting someone's cigarette. I said that I felt the doctor had done an exceptional job. Having heard my English accent, she replied: "Well, thank you, Doctor Who."
I spent the next hour as a standard party wallflower, roaming around, unable to start a conversation. In New York, there's a degree of bumbling Englishness you can accentuate to get into The Whyte Hotel on a Friday night when you've forgotten your ID, but here, amid the finely toned bodies, basic R&B and dragon tattoos, it seemed my charm card had expired. I kept thinking of the Doctor Who comment. I needed to blend in and the tweed wasn't helping. I stripped down to my boxers, then stepped out of those, too. I handed my hastily folded clothes to the girl with the metallic snake crown, and headed towards the amber glow of the room at the opposite end of the loft.
Another sex room. Brighter lit, smaller. Two adjoining circular beds. A line of men, some with erections, one guy stroking his dick, faced two women making out with each other. One of the women beckoned a man onto the bed, putting her mouth around his dick as the other woman leaned back and stretched, before inviting another man to climb on top of her.
Oh, if I had known, at that moment, that Lou Reed had died.
At a much younger age, hearing The Velvet Underground's song Venus In Furs for the first time, I was floored by the primitive yet precise swell of Moe Tucker's bass drum; John Cale's brittle, droning viola; the exotically named Severin and those shiny boots of leather chewed out from this punkish voice across an album decorated with a banana phallus. Venus In Furs was, for me, an onomatopoeic vessel and the basis for each and every imaginary orgy: Bacchanalian; strobe lights; distorted mirrors; decaying aristocrats, poetic waifs; less porn, more performance art.
And so I leant by the kitchen table.
"Hey, man, how you finding it?" offered Tim, the guy who greeted us on the way in. Dressed only in jeans, he poured me a glass of wine. I told him I was in New York working on some writing, and he said he was trying to be a writer, too. He was about my age and he carried that slightly creased air handsome boy-men get when they cross into their mid thirties, like a five-year-old MacBook which has survived a virus or two.
"You host these parties regularly?" I asked him. He sighed laconically and told me he'd lost his Wall Street job in 2008, and had been putting on sex parties in this loft with his girlfriend ever since. I wondered if she was the Afro-haired lady we'd met in Alphabet City. It wasn't hard to imagine them as a couple, both exuding the alpha rays of the incredibly good looking and confident, making these parties happen. Both sharing this luxury loft in Chelsea. Both winning, by the skin of their teeth.
"Man, we're closing up now, but you and your friend should stay behind, have a drink with us," he said.
A little while later, we were sat on sofas in the central loft space. I was still talking with Tim; we had been joined by the door lady, who'd climbed out of her corset and into a pair of casual jeans. We were also joined by her friends: the other girls who'd helped to organise the party, take care of the cloak room and supervise customers' behaviour. Everyone had pulled on cosy sweaters, got out their cigarettes and was just enjoying that typical, post-work wind down that you often glimpse walking past the windows of a recently closed bar.
I relaxed. Now I could just be 5am-on-a Sunday-morning drunk Paul with a bunch of people who were also just being their 5am-drunk selves. I asked the cloakroom girl why, in her opinion I hadn't connected with anyone. I mean, I'd hung around naked, I'd left my inhibitions in the cloakroom. She gave me that compassionate look mothers give to children when about to deliver a potentially upsetting, but vital, life lesson: "Honey, these just weren't your people."
The next day, walking back along Bedford Avenue, as I considered my strange collection of feelings, including how it felt to fail to have sex at a sex party, I crossed a few Perfect Days, a few Sunday Mornings and wondered if any of the coffee shops, burgers joints, sushi bars or clothing boutiques had been reckless and audacious enough to play Metal Machine Music.
***
Photograph by Creative Commons