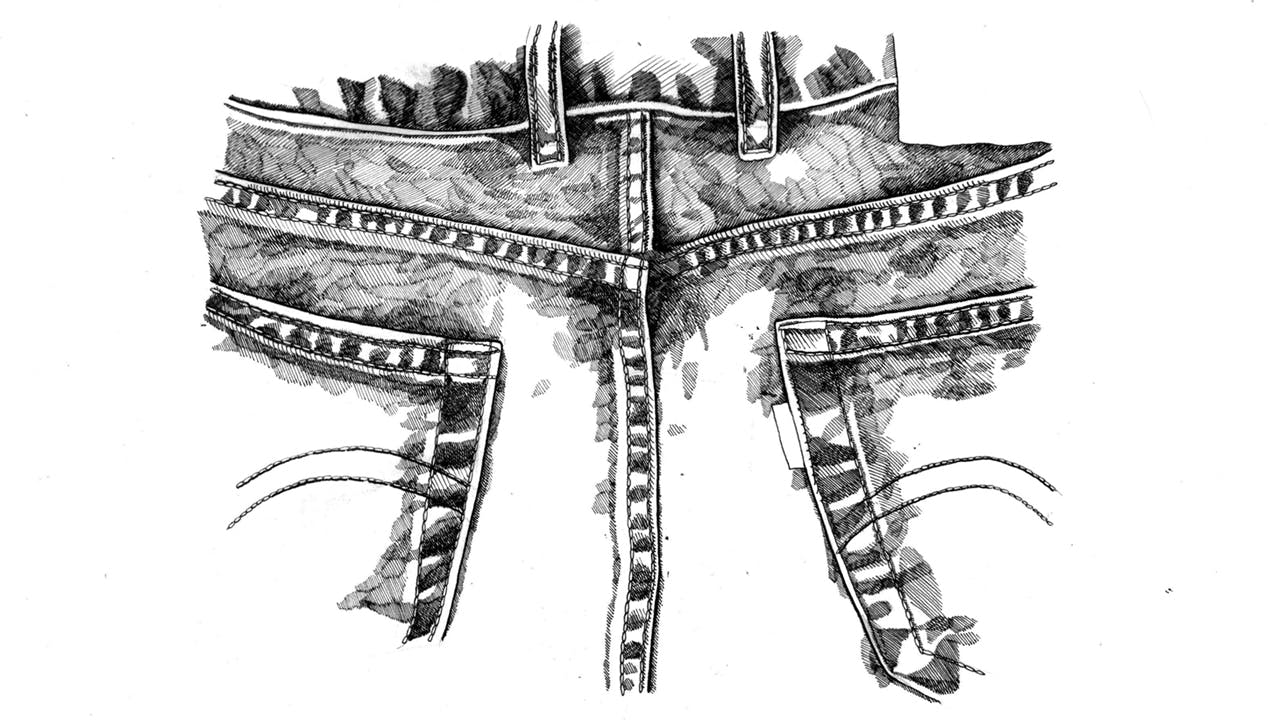 At first, after I slipped them out of their kidney-shaped chemical bag and slid my lube-covered legs in, they fitted like normal jeans. All those five-star ratings, all those celebrity endorsements, totally vanilla people openly sharing orgasms on a global scale – all through the magic of Intwine. And yet, for the moment at least, they looked and felt like regulation black denim.
"Does this turn us into a Kooples couple?" I asked.
"Honey," she said, "as much as I love you, I think we're probably more Humans of New York."
We blew delicately on our tea, the steam appearing to form an archway across 5,000 kilometres. The cam shook as she leaped backwards.
"They hug my butt rather well, don't you think?" she said, twirling like a clockwork ballerina amidst discarded FedEx wrapping.
It was her idea, that we pay the $476 each and join the growing number of celebrities, Insta-couples, deviants and normies, exhibitionists and solitaries, all smearing on the lube and zipping into Intwine. BuzzFeed listicles with titles like 10 Couples Definitely On Intwine or How Can You Tell If Your Co-Workers Are On Intwine? had surfaced hourly since its launch earlier in the year.
Hattie had got it, instantly, that what 'Time' was heralding as The Second Sexual Revolution could be our saviour. Yet this morning, handing over my ID in exchange for the parcel at the newsagent on Schönleinstrasse, I had regressed to a trembling schoolboy glancing at the top shelf.
This whole thing you did, after the cycle, when you finally swapped jeans: the orgasm, it went beyond sex, people were saying. Beyond male or female. Spiritual, even. Forums were alive with tales of transcendence. However, I was the skeptic in a couple that had only tried online fucking once and even then, awkwardness had taken over and I'd kicked off the wifi.
"I just want to feel you," she had said, and there's me in Berlin and her in New York and flights are like... Well, we needed this.
On the first afternoon of the new, full menstrual cycle it took for the biological technology alive in the jeans to synthesise the owner's sexual essence, I walked through to the kitchen. My housemate, head perpetually obliterated by an oily pod of Ramones-esque hair which erased not only his eyes but his actual name from my consciousness, briefly looked away from his stickered Mac and made that little wheeze I genuinely hoped meant "hallo". I reached one of his Club-Mates out of the fridge, lit a Fred and made my way along the Strasse for the first time in Intwine.
"That's the only gross bit," I typed. Akzidenz-Grotesk 1896-fonted packaging described the lube as the buffer between skin and science, organic and synthetic, but each morning, when smearing a thin layer across my legs, around my cock and ass crack, it smelt digital. "Seriously, this morning, was like rubbing in burnt electricity."
"Totally! Last night I dreamt I was in a field of really superfuckingtall poppies," typed Hattie. "And they were blooming, but when the wind blew they all rattled like machinery. It's the fucking lube. Oozing into my dreams."
Snow whimsied its way across the café's ceiling-high windows, framing me and all the other laptoppers as if we were figurines in some Airbook-sponsored Christmas globe. I wondered how many others here, sucking spirulina smoothies through straws, had already gone through this, the wearing in. I wondered how many had found God through orgasm.
"What are you thinking?" Within days of wearing them, I had started getting full-on night panics, like, what if something weird happened to the jeans in transit? What if it isn't Hattie's sexual essence dripping into me, but some unknown DNA? There was a story going round about a pornstar auctioning off her Intwine on eBay and a midwestern church desperately trying to outbid everyone, so they could burn her jeans during a ceremonial live stream.
Even when we were reduced to Messenger, I could still hear Hattie's voice in every word she typed. Really, it's been one long conversation since we both swiped right. Two days later, we met up and christened it "The Night Tinder Actually Went Well". It was a conversation that continued as we drank through to daylight, trading covert words to ridicule the loonies and cops around us in the Kellogg's Diner off Metropolitan Ave. It was a conversation that took in the moment my heart bumped as she told me she loved me at the departure gates at JFK; one that now fluctuated between Skype, WhatsApp and whatever else was at our disposal.
A month earlier, doing our research into Intwine, I moaned about why on earth we had to go through 28 days of wearing the jeans in.
"Douchebag!" Hattie buzzed. "It's gotta be the full menstrual cycle for the technology to work. You guys see us as these bouncing booty avatars to jerk off to, forgetting the shitty few days when we hate everyone and can't even stand the thought of sex. You gotta take that, too, if you want us for real. It all goes into the big picture, baby".
"Or it would kind of kill the point of the whole thing, yep?"
"Yep. Douchebag."
It wasn't long before applying the lube and stretching into the fabric became as routine as iPhoning the weather. I'd pass through the kitchen, the tech gathering its bio-synthesis as steadily as Joey Ramone remained oblivious to my stealing of his Club-Mate. The Intwine logo emitting its tiny blue glow as I descended the U-Bahn.
Most of the time I could deal with not being with Hattie. I mean, she had her work and I had mine. But when her gramp's cancer came back, three days before she was supposed to fly out in September, it hurt. I mean, you cancel a flight to see your loved one over a fucking grandparent? Like pets, isn't that just what they do? Die at some point? But the whole Hattie clan went into this fucking intense group hug. The flight was off the agenda. I was off the agenda. So when she brought up Intwine, we grabbed at it like a life raft.
Yet sat in the café – and it could have been the frost on the windows or the interwoven couple spooning each other granola – I was unable to shake the picture of Hattie's entire family, encased in the warmth of soft-focus tree lights and reindeer-patterned wool. My stomach imploded with the realisation that, yes, I would be spending Christmas alone.
Joey Ramone texted, inviting me to check out some DJs playing at that big Sisyphos club over in Friedrichshain. We rode the S-Bahn in silence, gasping at the ugly/beautiful collage of industrial history speeding past the window. Jumping off at Rummelsburg station, we joined a long queue of clubbers filed alongside the complex of derelict warehouses. Everyone's head hung low, features locked in the cultivated, dour under-expression the door security favoured. Joey's head rotated cautiously as he slipped me MDMA in folded-up paper.
"Just like spies would have done here, passing each other secrets!" I joked.
Joey looked ahead.
My vision began to flicker before we had made it beyond the cloakroom. I'd been sat with the girl with the shaved hair for ages before I noticed how beautiful her eyes were becoming. All around us, minimal techno was rattling like the internal organs of a metallic sparrow. Then all that lovely, flickering vision stuff happened again. It was her eyes – they were huge. I lost Joey Ramone the second those eyes happened. This girl with the shaved hair. I remember snatches of dialogue, stuff about our past, stuff about ideas, moments where we were folded into a mass of interconnected thighs and elbows on an old sofa so giant its edges blurred into the frost blowing off the Spree.
As morning hit, we left the club and chased the sharp winter sun bouncing off the orange and yellow brick tenements of Friedrichshain. The afternoon was spent hoisting the bed sheets over our heads to block out the cold, before kicking them off again into a pile of our clothes. Her name was Mareike; she was from another time. When she told me she wasn't going to bother seeing her family over Christmas, I just knew I had found my city, and my people.
"Oh! Intwine." Her Germanic accent fused into mock English. Her hand hooked into my jeans, pulling me down onto the bed.
"You think I'm weird for wearing them?" I asked.
"You ask the wrong person. I never even got Tinder," she said, lighting a Fred. "This whole thing is so crazy! You see there is the app where you swap jeans, but you don't even know who with?"
"So, you wouldn't do it?" I asked.
"For me?" She stubbed the cigarette into an over-ashed mug, "Maybe for money. You know? Some guy I never meet having my orgasm pays me and I don't have to work in a café."
"You'd become an Intwine-whore?" I said
"That whole thing, calling those girls Intwine-whores is such bullshit," she said. "It's not like you even meet who you sell them to."
Back at the apartment, the guilt hit. I WhatsApped Hattie: "Man flu, feel fucking terrible!"
Those next 24 hours were the worst. Poor Netflix choices, takeaway pizza and feverish wanking were an ineffectual tourniquet for the guilt that echoed along my pulse. I pictured my Intwine, corrupted forever, FedExing across the Atlantic.
"What's wrong?" I asked Hattie.
"Nothing," she said.
When she was sad, Hattie's gaze would fix out of my sight: the effect always pushed me closer to my screen. The 28-day cycle had come to an end. Our much fêted Skype ceremony, folding Intwine into the kidney-shaped squidgy bags, waving them goodbye on their voyage, had become something we'd stopped mentioning. Not long ago, I could count on those two ticks lighting blue as soon as I'd WhatsApped, but as December lurched and wheezed, and the Christmas decorations along the Strasse bore witness to a thousand drunken office party microdramas, we just kept missing each other. She was always just in the shower, she'd say, or I was always just in the kitchen talking with Joey Ramone, I'd say. I wondered if, as the twin parcels criss-crossed their way across the Atlantic, at any point our orgasms had passed each other.
At the same time, Berlin was opening up. Mareike. We texted. Our conversation spilled way beyond an initial coffee amidst the mismatched upholstery of the café Tischendorf into an ongoing series of lunches, beers and Freds. She was from Munich and didn't know all that many Berliners. I talked about Hattie with her and she helped me see that hey, that night at Sisyphos was just one of those things – young people, living internationally. "So what?" she'd tut.
"I'm glad you've got a friend, you loser :)" Hattie said. We hadn't Skyped in ages. Our conversation was now down to infrequent WhatsApping.
"You'd like her. I talk about you all the time."
I'd be bullshitting if I said there wasn't an element of sexy, like the freezing night we ended up getting naked and covering ourselves in salt treatment at Liquidrom, but really, it was great to just share burgers along the Spree at White Trash or load up on cheap beer in some anarcho-punk dive near her place.
A message from Hattie: "So anyway, I did the tracking on the box..."
She was online. We hadn't both been online at the same time for days.
"Yep. Not long now." I replied. Joey Ramone in the kitchen bashing Gene Krupa rhythms out on the dishes. I paused, waiting. Nothing.
"Xxxxx" I half-heartedly sent.
Nothing.
She went offline.
The Intwine backlash was becoming a thing: a few users reported they hadn't found God, or even their partner, but instead a sensation akin to a brother, a sister, a work colleague or a best friend. But most of these cases were in places like Delaware, so to me, they didn't count.
"And then the guy goes and shoots his best friend." Mareike was beating my hand with excitement. We were walking arm in arm to collect Hattie's Intwine from the same tobacconist along Schönleinstrasse I had collected mine from, weeks earlier.
"He says he wore the Intwine and he could actually feel his best friend, and it turns out his best friend had been fucking his girlfriend," she said.
Back at the apartment, the jeans remained sealed inside their silicone kidney.
"Have you messaged her yet?" Mareike asked.
"I feel like I've arrived at the wrong address for a party." I said.
Under the plastic creases and the pinky fluid that gurgled around the package, I could see the denim and imagined the way it was against Hattie's skin. I tried really hard to summon this dying image of her, of the way she would ruffle her hair in New York last spring, but all I saw was the sleek Intwine manual.
"This is gooseberry time," Mareike said, zipping up her jacket and testing a lighter. She left with a hug and some vague arrangements to do lunch in the week. But in the brief moment that our cheeks brushed and she said something in German which blew a delicate crumb of biscuit onto my cheek, I had the urge to reach out. I didn't. Day fell away. Joey Ramone came, grabbed some skunk from an old biscuit tin, lit a Fred and left for Watergate. No Hattie message.
I slipped the jeans out of the squidgy bag, my feet hovering over the denim, over the million micro-synthetic fibres that had spent the last month distilling and replicating the essence of Hattie's sex.
"Ummm....." I sent to Mareike.
Christmas lights from the Strasse threw shadows across the bare plaster of my room. All I had to do was fasten up and release the Intwine button. Then there was the way Mareike left, the way she said "gooseberry". I turned my phone off. Then I switched it back on, Intwine remaining unfastened around my waist.
***
Illustration by Daniel David Freeman