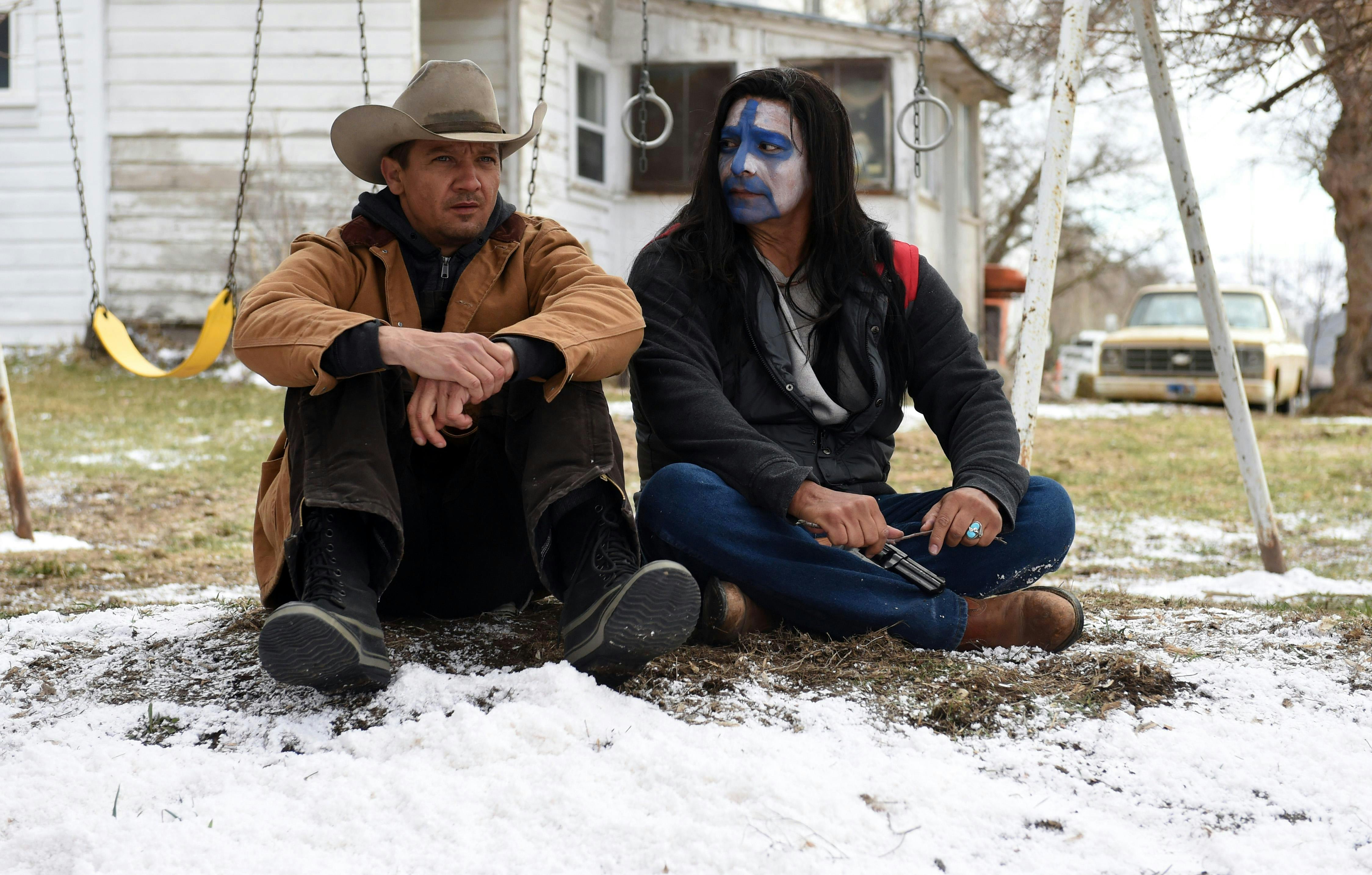 Three Billboards, Wind River and Hollywood's Representation Problem
Great news for fans of racist and sexist films in which a grieving parent takes the law into their own hands after a young woman is raped and murdered: Hollywood conspired to grant us two of them over the last year. If you liked Three Billboards Outside Ebbing Missouri, you'll love Wind River!
The directorial debut of Sicario screenwriter, Taylor Sheridan, tells the story of Cory Lambert, a white, male tracker for the USA's Fish and Wildlife Service (as played by Jeremy Renner) who teams up with white, female FBI agent, Jane Banner (Elizabeth Olsen) to investigate the rape and murder of Natalie, a Native American woman on Wyoming's (real life) Wind River Reservation. Cory's close association with the indigenous community—his ex-wife is Native American—imbues him with the wisdom to act as an authority on their ways to Jane, a hapless and guileless, city-dweller who makes mistake after mistake, leading to injury, death, and forfeiture of trust by the victim's family, which affords Cory a series of opportunities to call out her errors in judgement, and ultimately save the day when her final jejune mishap leads to a gruesome stand off. In a coda, he enacts vigilante revenge on the crime's chief perpetrator, revisiting upon him the same grizzly fate that met Natalie.
Wind River's clomping, blinkered worldview, in which it's perfectly plausible to present the story of the disappearance of a young woman of colour from the perspective of a middle-aged white man, is galling. There is never the sense that there could be anything wrong with the way it gives women the role of pretty victims, pretty incompetents, or mutes. Neither does there seem to be an understanding that its presentation of sexual violence, filmed unflinchingly in flashback as a sort of key to understanding the film, is egregiously explicit. There is, on the contrary, a palpable worthiness, a grating sincerity, as if it has shouldered its immense burden as a favour to the voiceless. Indeed, there's something almost endearing in its naivety—its self-identification as a crusading film-that-could—right down to the solemn end title cards, which highlight the real-life issue of sexual assault of women on reservations. All the while, the film's efforts at representation are confined to secondary roles, with plum parts as a borderline useless police officer for veteran Native American actor Graham Greene, and as the grieving mother—unspeaking, violent—for Althea Sam. 
Is Wind River racist? You won't find that claim in many reviews. A blogger in Spokane highlights its positioning of Cory as white saviour, while a review in the feminist Another Journal, makes the excellent point that Wind River is obsessed with female Indigenous suffering, offering up an intersectional critique of its white male perspective. But the film is clearly racist as evidenced by the way it others, displaces and silences Native American people; plonks a white man in their midst to do the job properly, and looks uncritically at socio-political issues quite beyond its narrow compass as an issues-led thriller.
So it is, now, with Three Billboards Outside Ebbing, Missouri, which has gone above and beyond what might be required of a film to be termed racist these days, but still reaps rewards while comments about its failings are largely kept to the sidelines. Leaving us with a ridiculous 'debate' about whether a film that centres a racist police officer who is known to have brutalised black people, is actually racist—a point of such banality that it feels demeaning to posit. In fact, the question of Three Billboards' racism does not so much hinge on whether the film paints Sam Rockwell's character as a monster or whether it redeems him—and naturally, it redeems him—but on the fact of his being a central character. Why are we even talking about him after years of campaigning by Black Lives Matter, following numerous high profile instances of racialised police brutality in the United States? Why does this police officer take up screen time at the expense of people of colour who between them get about seven lines in the film including "You go girl!")? Why does a woman of colour exist purely as a plot device as film journalist, Ashley Clarke asked?
Three Billboards displays the same hamfistedness as Wind River in scarcely realising that some things are simply not its province to address while being let off the hook by the same token as Wind River. Most of the film's racial problems—it also trades in sexism, to which we will attend in a minute—are to do with representation, the sole vehicle for racial infraction that still slips through the critical net. Of course, Three Billboards also blithely uses racially charged language; whopping out the N-word several times, and chucking in a dig at Mexicans for good measure—but it proofs itself against criticism on that front with the facile defence that its characters speak like that, and the film is satirising them. But it is not a documentary, and is not merely observing these characters. Instead, they are written as offensive to an extent that defies credibility. For example: Mildred deploys the N-word, despite ostensibly having a black best friend, in a scene that smirks at you can and can't say these days. 
Once again, it boils down to representation, and the way Three Billboards frames its perspective. Does Martin McDonagh, a white middle-aged Irish playwright, have any sense that some issues are not in his purview—are not his to be addressed? It does not appear that way. The question of police brutality is posed almost as a piquant plot point, which is somehow redressed by having a black police officer (with scarcely any agency) descend on the town to take command of Ebbing's force half-way through the film. The abiding impression when watching Three Billboards is of a writer-director merrily shifting toys about in his playpen, inventing fantasias to his own liking, making the dolls say bad words. 
Questions of perspective and representation such as these seem to designate a cultural shift by pointing at cosseted, straight, white male directors hanging on for dear life to their erstwhile hegemony. Ira Madison III draws shrewd, angry parallels between Three Billboards and the much-reviled Crash in an article for the Daily Beast, showing how this type of racial insensitivity, with easy messages about personal journeys and redemption, is the meat and drink of a certain type of white audience. His article tells us, too, of a history of white directors—I like to imagine them wearing demi-lune glasses, with a Wikipedia tab open to 'racism'—allotting themselves the power and credibility to create these pictures. 
This pattern is not confined to films depicting racial disparity or injustice. As a white man I'm scarcely best placed to castigate white writers for touching on issues outside their remit (and the writers of colour I have already mentioned, as well as Wesley Morris in the New York Times,  have touched on Three Billboards racism far more competently than me,) but as a queer one I see the way straight directors colonise queer stories in this very manner. You only need to look to The Dallas Buyers' Club, an Oscar-courting drama from 2013, to see how a straight white director appropriates a queer story, retooled for straight audiences. Again, representation and perspective are the keys to understanding the latent (or overt) homo- or transphobia on display. No queer men are given main roles in this story about the AIDS crisis, and a straight man plays Ron Woodroof, the straight cis-male saviour of the predominantly gay affected AIDS sufferers of the time, who gets over his homophobia and transphobia while in contact with Rayon, a transwoman played by straight cis-male Jared Leto. Woodroof is even given a romance storyline with a doctor played by Jennifer Garner to cement his straightness, when, in point of fact, acquaintances of Woodroof's state that he fully assumed his bisexuality and was not in the least bit homophobic. 
Just as racism is depicted in Three Billboards and Wind River, homophobia in The Dallas Buyers' Club is perceived not as a structural question but one of individual choices that can be surmounted or allowed to make a monster of you. We are lacking a proper understanding, in these works, of the causes of injustice, of misogyny, racism, homophobia and the intersection of all three, because of male directors of privilege granting themselves the right to frolic in a garden they've never visited before. The question of prejudice should not be up for 'debate' in these cases. The racism of Three Billboards will be as flagrantly obvious and unpalatable to future generations as blacking up is to us now. We need our reviewery to address these questions head-on, rather than taking these films' ideas on their own terms, to critique these aberrations as detrimental to the fabric of the art. 
Three Billboards just landed the jackpot at the BAFTAs, and is extremely well placed to haul in some gold at the forthcoming Academy Awards. I find it hard not to see its success as a rebuke to the advances made by films such as Get Out, not to be struck by parallels between this awards season and the stand-off between La La Land and Moonlight last year. To jog the memory, La La Land was the film by a white writer-director in which a white man figures as the keeper of the true spirit of jazz music, saving it from the modern approximations and vulgarities of a black man. This year, in Get Out, we have a film that confronts prejudice head-on with beady and unrelenting intelligence, turning the very viewing experience on its head, inviting audiences of colour and gleefully mocking its liberal white audience. How not to see the favours bestowed on Three Billboards—a film that infantilises, pacifies and excuses its white audience—as the film industry's sly corrective to that? 
***
Photograph by CANNES FILM FESTIVAL/HANDOUT/REX/Shutterstock (8825676a) Jeremy Renner and Gil Birmingham Wind River - 70th Cannes Film Festival, France - 19 May 2017